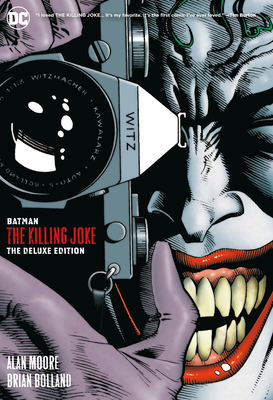 Batman (Hardcover)
The Killing Joke Deluxe (New Edition)
DC Comics, 9781401294052, 96pp.
Publication Date: September 17, 2019
* Individual store prices may vary.
Description
Critically acclaimed author Alan Moore redefined graphic novel story-telling with Watchmen and V for Vendetta. In Batman: The Killing Joke, he takes on the origin of comics' greatest super-villain, The Joker, and changes Batman's world forever.

Batman: The Killing Joke is Alan Moore's unforgettable meditation on the razor-thin line between sanity and insanity, heroism and villainy, comedy and tragedy.

One bad day is all it takes according to the grinning engine of madness and mayhem known as the Joker, that's all that separates the sane from the psychotic. Freed once again from the confines of Arkham Asylum, he's out to prove his deranged point. And he's going to use Gotham City's top cop, Commissioner Jim Gordon, and the Commissioner's brilliant and beautiful daughter Barbara to do it.

Stunningly illustrated, Batman: The Killing Joke The Deluxe Edition has been lushly recolored by artist Brian Bolland, presenting his original vision of this modern classic. This new edition includes Batman: The Killing Joke and stories from Batman: Black and White #4 and Countdown #31, along with numerous Batman and Joker covers and sketches by Brian Bolland, including artwork only previously published in the Absolute Edition!
About the Author
Alan Moore is perhaps the most acclaimed writer in the graphic story medium, having garnered countless awards for works such as Watchmen, V for Vendetta, From Hell, Miracleman and Swamp Thing. He is also the mastermind behind the America's Best Comics line, through which he has created (along with many talented illustrators) The League Of Extraordinary Gentlemen, Promethea, Tom Strong, Tomorrow Stories and Top 10. As one of the medium's most important innovators since the early 1980s, Moore has influenced an entire generation of comics creators, and his work continues to inspire an ever-growing audience. Moore resides in central England.