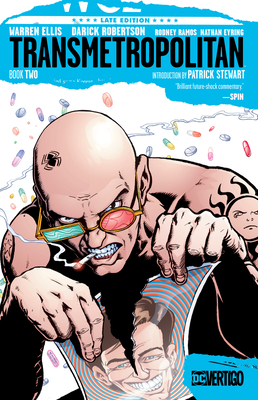 Transmetropolitan Book Two
Paperback

* Individual store prices may vary.
Description
In a future where consumerism, superficiality and corruption reign supreme, outlaw journalist Spider Jerusalem has decided to stop sitting idly by and watching the world crumble around him. No one in The City is safe.

YEAR TWO: I HATE IT HERE

Outlaw journalist Spider Jerusalem has covered every flavor of newsworthy depravity in the course of his long and chemically enhanced career. But the legendary street reporter's bread-and-butter stories of organ traffickers, DNA thieves, and dog fondlers are just an appetizer for that ultimate banquet of human degradation--politics.

Two candidates--the Beast and the Smiler--are facing off in this year's presidential election and Spider seems to be the only member of the media with the intestinal fortitude to hack his way through the campaign propaganda and discover the reality behind the spin.

But even with all his years of hard-won cynicism, Spider is still in for a shock when he starts to turn over these particular rocks--and there won't be enough mind-numbing drugs in the whole world to mask the corruption that he and his new assistants are about to expose.

Acclaimed writer Warren Ellis (Castlevania, The Wild Storm) and artist Darick Robertson (The Boys, Happy!) reconstruct the present by deconstructing the future in Transmetropolitan Book Two, collecting issues #13-24 of their disturbingly prescient series together with the special anthology one-shot Transmetropolitan: I Hate It Here and featuring an introduction by stage and screen legend Patrick Stewart.
Vertigo, 9781401294304, 336pp.
Publication Date: September 17, 2019
About the Author
Warren Ellis is a comics and graphic novel writer best known for the graphic novel series Transmetropolitan, Planetary and The Authority. With over 35 graphic novels in print, Ellis has received numerous honors including the International Horror Guild award for graphic narrative and being named one of Entertainment Weekly's 100 Most Creative People. Rolling Stone described his work as "more influenced by Jesus and Mary Chain than by the Justice League, while his characters fight for left-wing agendas over God and country, and kick puppies in the street."

Darick Robertson is a veteran comics artist who has worked at DC Comics and Marvel for nearly 20 years. He broke into the mainstream drawing Justice League for DC and went on to work for Marvel, where he pencilled titles including Wolverine, Spider-Man, and most notably New Warriors. Robertson is best known as the artist/co-creator of the Eisner Award-winning series Transmetropolitan with writer Warren Ellis, which was hailed by Wired magazine as "The Graphic Novel of the Decade." He was also the artist on an edgy new monthly series entitled The Boys for WildStorm with writer Garth Ennis.