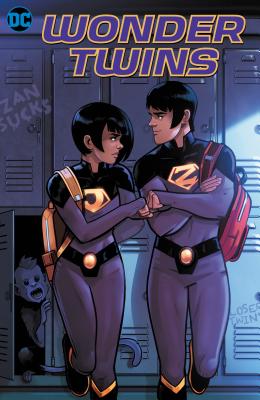 Wonder Twins Vol. 1
Activate!
Paperback

* Individual store prices may vary.
Description
Fan-favorite writer Mark Russell (The Flintstones, Exit Stage Left: The Snagglepuss Chronicles) brings his acclaimed brand of satire to Wonder Comics--a new young heroes imprint from Brian Michael Bendis--in Wonder Twins!

Exiled from their home planet, shape-changing alien heroes Jayna and Zan (she can morph into any animal, and he can turn into any form of water) must navigate life as students at Morris High School, where they're even bigger outsiders than the normal awkward teens they try to befriend.

Under the watchful eye of Superman, the brother-and-sister duo pull monitor duty at the Hall of Justice as interns, where they face Superman's impish foe Mr. Mxyzptlk as well as the deadlier-than-they-sound villains known as the League of Annoyance. They also learn some lessons from the Teen Titans' resident shape-shifter, Beast Boy, and struggle to overcome the pitfalls of Zan's brash confidence and Jayna's shyness. And, of course, there's a space monkey. There's always a space monkey.

Written by Mark Russell with gorgeous art by Stephen Byrne (Mera: Tidebreaker, Justice League/Power Rangers), Wonder Twins Vol. 1: Activate! collects Wonder Twins #1-6 and an afterword by Wonder Comics imprint curator Brian Michael Bendis.
DC Comics, 9781401294649, 160pp.
Publication Date: November 19, 2019
About the Author
Mark Russell is an American author, best known for his satirical graphic novel God Is Disapointed in You, an irreverent retelling of the Bible. He is also the writer of Prez and The Flintstones, as well as the acclaimed Exit Stage Left: The Snagglepuss Chronicles for DC Comics.