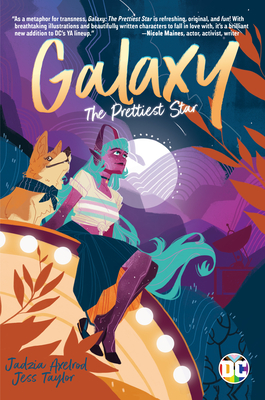 Galaxy
The Prettiest Star
Paperback

* Individual store prices may vary.
Description
It takes strength to live as your true self, and one alien princess disguised as a human boy is about to test her power. A vibrant story about gender identity, romance, and shining as bright as the stars.

"An effervescent and poignant tale about discovering and embracing your truest self against all odds; a must buy for teen collections." - School Library Journal, Starred Review

Taylor Barzelay has the perfect life. Good looks, good grades, a starting position on the basketball team, a loving family, even an adorable corgi. Every day in Taylor's life is perfect. And every day is torture.

Taylor is actually the Galaxy Crowned, an alien princess from the planet Cyandii, and one of the few survivors of an intergalactic war. For six long, painful years, Taylor has accepted her duty to remain in hiding as a boy on Earth.

That all changes when Taylor meets Metropolis girl Katherine "call me Kat" Silverberg, whose confidence is electrifying. Suddenly, Taylor no longer wants to hide, even if exposing her true identity could attract her greatest enemies. From the charming and brilliant mind behind the popular podcast The Voice of Free Planet X, Jadzia Axelrod, and with stunningly colorful artwork by Jess Taylor comes the story of a girl in hiding who must face her fears to see herself as others see her: the prettiest star.

"As a metaphor for transness, Galaxy: The Prettiest Star is refreshing, original, and fun! With breathtaking illustrations and beautifully written characters to fall in love with, it's a brilliant new addition to DC's YA lineup."—Nicole Maines, actor, trans activist, writer

"An enchanting new addition to queer myths that celebrates everything we gain, everything our world gains, when we stand up for becoming ourselves."—Jul Maroh, New York Times bestselling creator of Blue is the Warmest Color

"With beautiful artwork that features expressive figures highlighted against abstract backgrounds and a narrative that first breaks, then repairs readers' hearts, turning the final page is a sad affair."—Kirkus Reviews

"…hilarious and gorgeously illustrated narrative featuring queer romance, talking dogs, and a galaxy of the prettiest stars." —Publisher's Weekly
DC Comics, 9781401298531, 208pp.
Publication Date: May 17, 2022
About the Author
Jadzia Axelrod is an award-winning author, illustrator, activist, gadabout, style maven, and circus performer. She is a contributing author to Wonderful Women of the World, as well as having written comics for Tor, Quirk Books, and Epic Books. She is the writer and producer of the popular fiction podcasts The Voice of Free Planet X, Aliens You Will Meet, and Fables of the Flying City. She lives in Philadelphia, where she cooks overly elaborate meals for her wonderful wife and delightful child.


Jess Taylor is an almost award-winning comics artist and illustrator with a penchant for cat photos. In between LGBTIA+ activism and teaching, they've contributed their work to titles such as Adventure Time, Critical Role, and Stranger Things. While having worked for BOOM!, Legendary, Dark Horse, and OniPress, Jess's indie work has seen them nominated for an AFFA. They currently live in Nottingham, skirting Sherwood Forest, and when not advocating giving to the poor, they can be found napping in a spot of sunlight with their cat, Lottie.