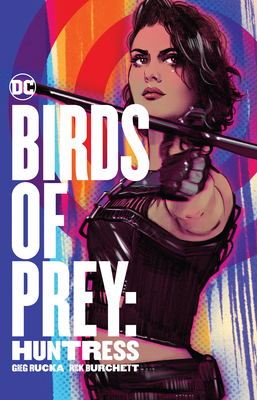 Birds of Prey (Paperback)
Huntress
DC Comics, 9781401298906, 152pp.
Publication Date: January 7, 2020
* Individual store prices may vary.
Description
In celebration of the feature film Birds of Prey (And the Fantabulous Emancipation of ONe Harley Quinn) comes BIRDS OF PREY: HUNTRESS.


Meet the character that inspired the film in this classic story!

The Huntress is framed for murder! Avoiding the Gotham City police, Huntress must revisit her childhood to discover the true culprit. While she seeks the clues necessary to prove her innocence, Batman and Nightwing are tracking her every move! As the mystery unravels, Huntress will uncover the terrible truth about the death of her parents.

From Eisner Award-winning author Greg Rucka (Gotham Central, Wonder Woman) and the Eisner Award-winning artist Rick Burchett (Batman, Superman), this volume collects Batman/Huntress: Cry for Blood #1-6
About the Author
Greg Rucka is a novelist whose work on Batman brought fresh attention to the character and to the inhabitants of Gotham City. He won the Eisner Award for Best Story with Gotham Central's "Half a Life." His other DC credits include Action Comics, Adventures of Superman, Wonder Woman, the new Batwoman adventures in Detective Comics and Superman: New World of Krypton. He was one of the co-writers of DC's weekly series 52. As a novelist, Rucka has nearly a dozen books to his credit, including the recent Walking Dead (Bantam).