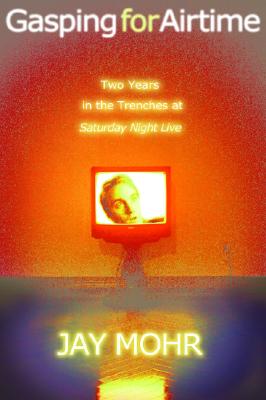 Gasping for Airtime (Hardcover)
Two Years in the Trenches of Saturday Night Live
Hachette Books, 9781401300067, 304pp.
Publication Date: June 9, 2004
Other Editions of This Title:
Paperback (7/20/2005)
Compact Disc (6/9/2004)
Compact Disc, Abridged, Abridged (6/1/2004)
* Individual store prices may vary.
Description
When 21-year-old Jay Mohr moved from New Jersey to New York City to pursue his dream of stand-up stardom, he never thought the first real job he'd land would be on Saturday Night Live. But, surprisingly, that's just what he did. What followed were two unbelievable, grueling, and exciting years of feverishly keeping pace with his talented cohorts, out-maneuvering the notorious vices that claimed the lives of other cast members, and struggling at all costs for the holy grail of late-night show business: airtime.

In Gasping for Airtime, Jay offers an intimate account of the inner workings of Saturday Night Live. He also dishes on the guest hosts (John Travolta, Shannen Doherty, Charles Barkley), the musical guests (Kurt Cobain, Steven Tyler, Eric Clapton), and of course his SNL castmates (Chris Farley, Adam Sandler, Mike Myers, and David Spade). Refreshingly honest and laugh-out-loud funny, this book will appeal both to fans of Jay Mohr and to devotees of Saturday Night Live.
About the Author
Jay Mohr was a featured performer and writer on Saturday Night Live from 1993 to 1995. His breakthrough film role was in Jerry Maguire. Other film credits include Picture Perfect, Go, Pay It Forward, and S1M0NE. Jay often guest hosts Premiere Radio's Jim Rome Show. He recently produced and hosted a weekly comedy/music/sports talk show for ESPN, and he is the creator and executive producer of NBC's hit series Last Comic Standing. He lives in Los Angeles.