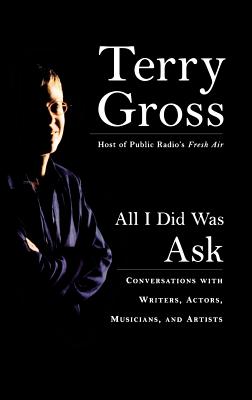 All I Did Was Ask
Conversations with Writers, Actors, Musicians, and Artists
Hardcover

* Individual store prices may vary.
Other Editions of This Title:
Paperback (10/5/2005)
Description
A fascinating collection of revealing and entertaining interviews by the award-winning host of National Public Radio's premier interview program Fresh Air
.
Over the last twenty years, Terry Gross has interviewed many of our most celebrated writers, actors, musicians, comics, and visual artists. Her show,
Fresh Air with Terry Gross
, a weekday magazine of contemporary arts and issues produced by WHYY in Philadelphia, is one of National Public Radio's most popular programs. More than four million people tune in to the show, which is broadcast on over 400 NPR stations across the country.
Gross is known for her thoughtful, probing interviewing style. In her trusted company, even the most reticent guest relaxes and opens up. But Gross doesn't shy away from controversy, and her questions can be tough--too tough, apparently, for Bill O'Reilly, who abruptly terminated his conversation with her. Her interview with Gene Simmons of Kiss, which is included in the book, prompted Entertainment Weekly to name Simmons its male "Crackpot of the Year."
For
All I Did Was Ask
, Gross has selected more than three dozen of her best interviews--ones of lasting relevance that are as lively on the page as they were on the air. Each is preceded by a personal introduction in which she reveals why a particular guest was on the show and the thinking behind some of her questions. And in an introductory chapter, the normally self-effacing Gross does something you're unlikely ever to hear her do on
Fresh Air
--she discusses her approach to interviewing, revealing a thing or two about herself in the bargain.
The collection focuses on luminaries from the art and entertainment world, including actors, comedians, writers, visual artists, and musicians, such as:
Conan O'Brien
Chris Rock
Michael Caine
Dennis Hopper
Dustin Hoffman
Jodie Foster
John Updike
Mary Karr
Mario Puzo
Nick Hornby
Chuck Close
Eric Clapton
George Clinton
Sonny Rollins
Samuel L. Jackson
Johnny Cash
Isabella Rossellini
Divine
Uta Hagen
Carol Shields
Hachette Books, 9781401300104, 384pp.
Publication Date: September 8, 2004
About the Author
Terry Gross started out in public radio in 1973 at WBFO, the NPR affiliate on the campus of her alma mater, the State University of New York at Buffalo. She became producer and host of Fresh Air in 1975, when it was still a local program. Fresh Air won a Peabody Award in 1994 for its "probing questions, revelatory interviews, and unusual insights." In 2003, Terry herself received public radio's highest honor, the Edward R. Murrow Award. She lives in Philadelphia with her husband, the writer Francis Davis.