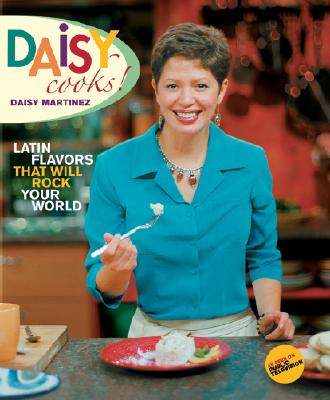 Daisy Cooks!
Latin Flavors That Will Rock Your World
Hardcover

* Individual store prices may vary.
Description
Daisy Martinez is America's most exciting and beloved new television cook. Here, at last, is her first cookbook, with all the recipes from her acclaimed show--and most can be made in under thirty minutes!

In Daisy Martinez's kitchen, salsa music is always playing. Laughter fills the air, along with delicious aromas of the amazing meal to come. Friends, neighbors, and family members are ever-present, sneaking tastes from every pot. And in the center of it all, Daisy is laughing, singing, tasting, and appreciating everything that her kitchen--and life!--has to offer.

Does this sound like your kitchen? If not, don't despair. In this book and on her acclaimed national public television series, Daisy Cooks!, Daisy teaches you how to bring excitement back to the table with Latin-inspired food that your friends and family will love!

Some of these recipes will remind you of meals you've enjoyed in restaurants. Some are great variations on dishes you already cook. Some are totally new. All of them will rock your world. Daisy's flavorful, satisfying interpretation of the best dishes from Puerto Rico, Mexico, Spain, Cuba, the Dominican Republic, and Central and South America all taste like the results of a day in the kitchen--but in reality, most take only thirty minutes to prepare. Here, you'll find the techniques that Daisy learned at the French Culinary Institute, along with her mother's and grandmother's time-tested tricks! This winning combination results in dishes that range from elegant Chicken Braised with Figs to soul-satisfying Cuban Black Bean Soup to to-die-for homemade Dulce de Leche.

And then, of course, there are Daisy's "Top Ten Hits"--the recipes that, once you try them, are guaranteed to change the way you cook forever. In this first chapter, Daisy shows how simple flavor boosters, in addition to a few easy techniques, can make every meal mouthwateringly special. In Daisy's words, "If you can season, cook, and dress pork chops and serve them alongside fragrant yellow rice in less than thirty minutes, I can't imagine why you'd eat anything from a cardboard carton!"

With ingredients that are found in almost every supermarket, equipment that every kitchen contains, and a little bit of adventurousness on your part, the recipes in this book will transform your mealtimes for good. So jump right in--it's time to get Daisy-fied!
Hachette Books, 9781401301606, 304pp.
Publication Date: September 14, 2005
About the Author
Daisy Maria Martinez was born to mainland Puerto Rican parents in Brooklyn, New York, where she lived at her grandmother's house until she was almost five years old. Her extended family includes relatives from Central America, Spain, and other parts of the Spanish-speaking world. She has modeled and acted in commercials and in numerous films including Carlito's Way and Scent of a Woman. She attended Long Island University and the French Culinary Institute before establishing her catering business, The Passionate Palate. Daisy lives with her husband and children in Brooklyn.
or
Not Currently Available for Direct Purchase