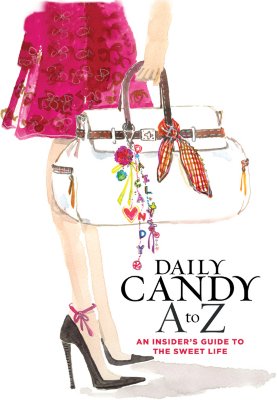 Daily Candy A to Z: An Insider's Guide to the Sweet Life (Hardcover)
An Insider's Guide to the Sweet Life
Hyperion Books, 9781401302184, 226pp.
Publication Date: April 1, 2006
* Individual store prices may vary.
or
Not Currently Available for Direct Purchase
Description
The Bombshell Manual of Style meets The Lucky Shopping Manual in an alphabetized style guide from the editors of the trendsetting Web site DailyCandy.com Every morning, hundreds of thousands of women around the globe open their e-mail inboxes and indulge in the day's first treat: DailyCandy. What's DailyCandy? It's the Web site that quickly became the ultimate source for the latest need-to-know information about fashion, food, and fun. It's like getting an e-mail from your clever, unpredictable, and totally in-the-know best friend who always has the scoop on everything--from new designers, handbags, and jeans to hot restaurants, travel destinations, books, and beauty treatments. As useful as it is entertaining, DailyCandy is beloved for its writing style (insider and inclusive, witty but never pretentious) and for its beautiful watercolor illustrations. Now, for the first time ever, advice, atmosphere, and attitude will be available in book form. DailyCandy A to Z offers insider advice on 26 topics: Appearance, Brain Candy, Charm, Do-Gooding, Edibles, Fundamentals, Grand Dames, Home, Intimacy, and more. DailyCandy A to Z covers everything you need to know about living a stylish life. The book will appeal not only to the site's large and loyal fan base, but to countless other readers who have yet to discover DailyCandy.
About the Author
Launched in New York in 2000 by a former New York magazine editor, DailyCandy's addictive daily e-mails were quickly embraced as the inside source for the scoop on the next designer, restaurant, beauty secret, or book. DailyCandy now reaches an audience of hundreds of thousands of young and affluent subscribers around the globe, through its seven daily online publications--New York; Los Angeles; Chicago; San Francisco; Boston; Dallas; and Everywhere, the national edition--as well as two weekly publications, DailyCandy Travel, which provides the latest information on must-visit travel destinations both on and off the beaten path; and DailyCandy Kids, for parents.
Advertisement