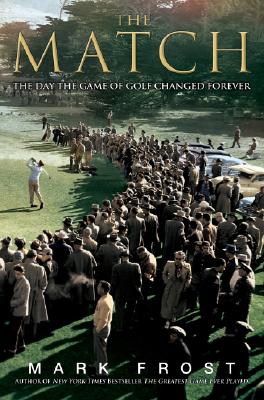 The Match (Hardcover)
The Day the Game of Golf Changed Forever
Hachette Books, 9781401302788, 272pp.
Publication Date: November 6, 2007
* Individual store prices may vary.
Description
In 1956, a casual bet between two millionaires eventually pitted two of the greatest golfers of the era-Byron Nelson and Ben Hogan-against top amateurs Harvie Ward and Ken Venturi. The year: 1956. Four decades have passed since Eddie Lowery came to fame as the ten-year-old caddie to U.S. Open Champion Francis Ouimet. Now a wealthy car dealer and avid supporter of amateur golf, Lowery has just made a bet with fellow millionaire George Coleman. Lowery claims that two of his employees, amateur golfers Harvie Ward and Ken Venturi, cannot be beaten in a best-ball match, and challenges Coleman to bring any two golfers of his choice to the course at 10 a.m. the next day to settle the issue. Coleman accepts the challenge and shows up with his own power team: Ben Hogan and Byron Nelson, the game's greatest living professionals, with fourteen major championships between them. In Mark Frost's peerless hands, complete with the recollections of all the participants, the story of this immortal foursome and the game they played that day-legendarily known in golf circles as the greatest private match ever played-comes to life with powerful, emotional impact and edge-of-your-seat suspense.
About the Author
Mark Frost is the bestselling author of The Greatest Game Ever Played, The Grand Slam, Game Six, and the novels The Second Objective, The List of Seven, The Six Messiahs, and the young-adult series The Paladin Prophecy. He received a Writers Guild Award and an Emmy nomination for the acclaimed television series Hill Street Blues, was co-creator and executive producer of the legendary ABC television series Twin Peaks, and in 2005 wrote and produced The Greatest Game Ever Played as a major motion picture from Walt Disney Studios. Mark lives in Southern California with his wife and son.
Praise For The Match: The Day the Game of Golf Changed Forever…
"It's difficult to beat a good golf book, be it a good yarn or a picture book . . . The golf is spectacular, the course more so, the descriptions luminous."—USA Today

"Frost weaves an exceptional narrative . . . It's a gripping tale--as good as James Patterson, John Grisham, or any other contemporary novelist could create. And all true. The match comes down to the 18th hole, and you'll be the winner once you turn the last page."—Met Golfer

"Frost masterfully puts the reader not just on the scene, but in the time, too, with terrific storytelling."—The State (South Carolina)

"Frost captures an elusive magic in this improbable matchup and what it meant for those who played and witnessed it."—Publishers Weekly

"The Match was a dream I never thought would come true. If I hadn't been there I wouldn't believe it myself, and if you know anything about sports or the game of golf, once you pick up this book you won't put it down. No one will ever see an event like this again. Fiction can't touch it."—Ken Venturi