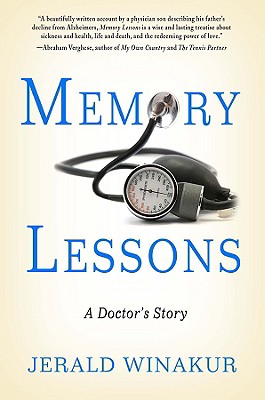 Memory Lessons
A Doctor's Story
Hardcover

* Individual store prices may vary.
Description
The story of becoming a doctor, and being a son. Jerald Winakur is a doctor who cares for, and about, the elderly. Dedicated and compassionate, he's a surrogate son to many. And yet, all his years of service helping patients and their families adjust to the challenges of aging did not prepare him for becoming father to his own father, who had become as needy as any child. In Memory Lessons--a tender and provocative book--Dr. Winakur writes about what it's like to be medical counselor to countless patients, while disclosing his personal heartbreak at watching his 86-year-old father descend into disability and dementia, his mother at his side. In both of these roles--highly skilled professional and loving son--he finds he is hard pressed to alter a course that devastates his dad and tears at his family. But he does what he can. A doctor who does his best to listen carefully to each patient in turn, who attempts to confront every problem with, as he says, "a reasonable fund of knowledge, a modicum of common sense, and a large dose of honesty," Dr. Winakur knows that there is much we can do by loving and listening. We all search for answers; we all want to do the right thing for our parents, but few of us know what that right thing is. Faced with caring for a growing sea of elders, Dr. Winakur reflects on his thirty years in the medical profession to consider the very personal and immediate questions asked by families every day: What are we going to do with Dad? Who will care for him--and how? These are urgent questions, and they're faced head-on in Memory Lessons with unflinching honesty, hope, and, above all, love.
Praise For Memory Lessons: A Doctor's Story…
"To say Memory Lessons is a beautifully written account by a physician son describing his father's decline from Alzheimer's, is only to begin to describe this haunting memoir. What Winakur gives us is a wise and lasting treatise about sickness and health, about life and death and the redemptive power of love--filial, parental and that of a physician for the practice of his craft. I can't think of a book quite like it or one that has affected me more."
-Abraham Verghese, author of My Own Country and The Tennis Partner

"Jerald Winakur poignantly brings together his personal and professional lives in this healing work, a deeply humane and utterly forthright book of memories, lessons, and revelations."
-Edward Hirsch, author of Special Orders: Poems

"Memory Lessons is a searing, heartbreaking, and beautifully written account of a physician's battle against Alzheimer's--among aging patients in general, but more personally as the disease slowly steals Dr. Winakur's own father. Like all fine literature, this is finally a book about what it means to be human."
-Tim O'Brien

"Memory Lessons is a beautifully written and moving book that is both personal and universal. This son's story should touch everyone who has--or had--a father. This doctor's story should touch everyone who needs--or will need--a really good doctor. This powerful book offers a story for everyone."
-Christine K. Cassel, M.D., President of the American Board of Internal Medicine
Hyperion, 9781401303020, 304pp.
Publication Date: January 1, 2009
About the Author
Jerry Winakur has practiced internal and geriatric medicine in San Antonio, Texas, for over thirty years. An Associate Faculty Member of Medical Humanities and Ethics at the University of Texas Health Science Center, he also lectures in Humanities at the University of Texas and Trinity University in San Antonia. He lives with his wife, the poet Lee Robinson, in Comfort, Texas.
or
Not Currently Available for Direct Purchase