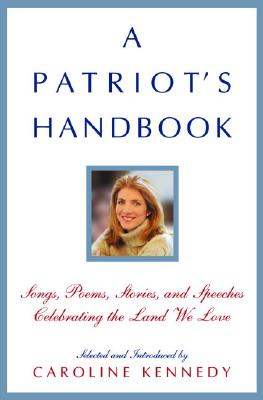 A Patriot's Handbook: Songs, Poems, Stories, and Speeches Celebrating the Land We Love (Paperback)
Songs, Poems, Stories, and Speeches Celebrating the Land We Love
Hyperion Books, 9781401307677, 663pp.
Publication Date: April 1, 2005
* Individual store prices may vary.
or
Not Currently Available for Direct Purchase
Description
Now available in paperback, the
New York Times
bestseller. When John F. Kennedy called America "the land we love" more than 42 years ago, he was reminding us of the lofty ideals on which our country was founded. But what are those ideals, and how have Americans defined them Is America the land of George Washington and Franklin Delano Roosevelt, who rallied the country's spirits for unity in wartime, or is it a land of dissent, a land in which Frederick Douglass, Elizabeth Cady Stanton, and Martin Luther King, Jr. remind us of our duty to protect our most fundamental freedoms? Are we defined by the speeches of Thomas Jefferson and Ronald Reagan or by the humor of H.L. Mencken and Mark Twain? Caroline Kennedy's answer in
A Patriot's Handbook
is that we are all of those things and more. The poems, songs, speeches, letters, and historical documents that Caroline Kennedy has chosen for this remarkable collection remind us of the foundations on which America was built. But they also ask us to examine what it truly means to be a "patriot," even if our assumptions are challenged along the way, because it is only by doing so that America can "truly be our own." Voices as diverse as the nation itself:
Thomas Jefferson
Cole Porter
Chief Red Jacket
Amy Tan
Betty Friedan
Albert Einstein
George W. Bush
Loretta Lynn
John F. Kennedy
Martin Luther King, Jr.
Bob Dylan
Cesar Chavez
Toni Morrison
Groucho Marx
and many more
About the Author
Caroline Kennedy is the editor of the New York Times bestselling A Patriot's Handbook, Profiles in Courage for Our Time, The Best-Loved Poems of Jacqueline Kennedy Onassis, A Family of Poems, and the coauthor of The Right to Privacy and In Our Defense: The Bill of Rights in Action. She serves as the Vice Chair of the Fund for Public Schools in New York City and President of the John F. Kennedy Library Foundation. She lives in New York City.
Advertisement