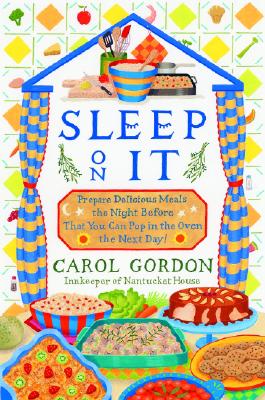 Sleep on It: Prepare Delicious Meals the Night Before That You Can Pop in the Oven the Next Day! (Paperback)
Prepare Delicious Meals the Night Before That You Can Pop in the Oven the Next Day!
Hyperion Books, 9781401308162, 290pp.
Publication Date: March 1, 2006
* Individual store prices may vary.
or
Not Currently Available for Direct Purchase
Description
A collection of Country Inn cooking--delicious, easy recipes that can be prepared the night before "My first innkeeping morning found me in the kitchen cutting fruit at 4:30 AM Right then and there I knew I needed time-saving shortcuts. I began coveting overnight recipes and . . . Sleep On It was born. This compilation of overnight recipes allows you to serve a delicious breakfast, brunch, dinner, or dessert and still have time to enjoy your day." --from Sleep On It Sleep On It is a collection of the 150 best recipes that can be made at night to serve the next day. Pulled from small inns and bed-and-breakfasts around the country, these tried and true recipes include breakfast, brunch, appetizers, dinners, and desserts. Accompanying each recipe is an anecdote from inn owners or a particular tip on preparation. Recipes included in the book: Schoolhouse Creek Coffee Cake Bayou Bend Casserole Arabian Pork Chops Tarragon and Leek Souffle Chicken Quenelles Frothy Strawberry Squares Sleep On It is the perfect cookbook for anyone pressed for time who wants to put delicious, home-cooked food on the table. Pearson's Pond Healthy Ham Quiche
Pearson's Pond Bed & Breakfast - Juneau, Alaska 1 cup soft silken or firm tofu
1 cup rice or soy milk (plain or vanilla)
1 cup liquid egg product*
3/4 cup nonfat ricotta cheese
10 oz. bag no-fat shredded mozzarella cheese
4 oz. can mushrooms
1 medium red bell pepper (or substitute a few sun-dried tomatoes)
1 medium yellow or green bell pepper mild jalapeno peppers (2/3 of a small can of Ortega roasted mild chilies, chopped)
1 1/2 cups cubed or ground ham
1/2-1 tsp. hot curry powder
1 Tbsp. onions, chopped
1 tsp. granulated steak seasoning
1/4 tsp. garlic salt
1/2 tsp. cilantro
2 baked, cooled pie crusts Blend first 4 ingredients and the spices in a blender. Chop peppers (veggies) and ham in a food processor till the size of small peas. Drain in colander for a few minutes. In the pie crusts, distribute the shredded cheese, mushrooms, ham, and peppers. Cover and refrigerate overnight. The next day: Pour liquid from blender over the contents in pie crusts. Bake about 45 minutes at 350 F till knife inserted into pie comes out clean. Let set at least 15 minutes, then cut into wedges and serve. May be re-heated in the microwave. Makes 2 pies. Serves 6-12.
About the Author
Carol Gordon owns and operates the Nantucket House of Chatham, a B&B on Cape Cod, where she creates memories and memorable meals for guests.
Advertisement