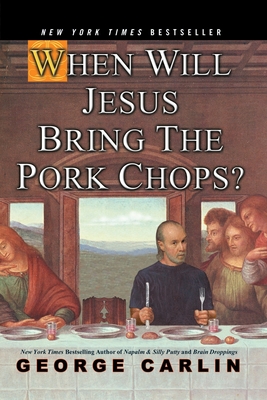 When Will Jesus Bring the Pork Chops? (Paperback)
Hachette Books, 9781401308216, 320pp.
Publication Date: October 19, 2005
Other Editions of This Title:
Digital Audiobook (10/11/2004)
Hardcover (10/12/2004)
Compact Disc (9/12/2004)
Audio cassette (10/1/2004)
* Individual store prices may vary.
Description
Now in paperback, the New York Times bestseller that takes readers on a riotous journey through the mind of one of America's premier comics George Carlin's legendary irreverence and iconoclasm are on full display in When Will Jesus Bring the Pork Chops? as he vainly scours the American landscape for signs of intelligence in his third national bestseller. Ranging from his absurdist side (Message from a Cockroach; TV News: The Death of Humpty Dumpty; Tips for Serial Killers) to his unerring ear for American speech (Politician Talk; Societal Clichs; Euphemisms: 13 sections) to his unsparing views on America and its values (War, God, Stuff Like That; Zero Tolerance; Tired of the Handi-crap), Carlin delivers everything that his fans expect, and then adds a few surprises. Carlin on the battle of the sexes: Here's all you have to know about men and women: Women are crazy, men are stupid. And the main reason women are crazy is that men are stupid.
About the Author
George Carlin is the author of several national bestsellers, has appeared in ten feature films, and is the recipient of the American Comedy Awards Lifetime Achievement Award. He lives in Los Angeles.