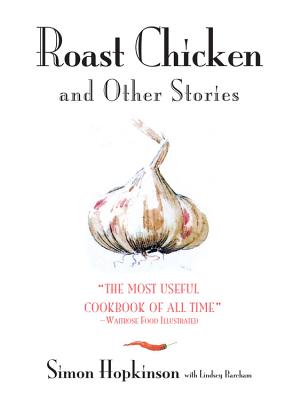 Roast Chicken and Other Stories (Hardcover)
Hachette Books, 9781401308629, 240pp.
Publication Date: September 4, 2007
* Individual store prices may vary.
Description
"Good cooking depends on two things: common sense and good taste."

In England, no food writer's star shines brighter than Simon Hopkinson's. His breakthrough Roast Chicken and Other Stories was voted the most useful cookbook ever by a panel of chefs, food writers, and consumers. At last, American cooks can enjoy endearing stories from the highly acclaimed food writer and his simple yet elegant recipes.

In this richly satisfying culinary narrative, Hopkinson shares his unique philosophy on the limitless possibilities of cooking. With its friendly tone backed by the author's impeccable expertise, this cookbook can help anyone--from the novice cook to the experienced chef--prepare delicious cuisine . . . and enjoy every minute of it!

Irresistible recipes in this book include:
- Eggs Florentine
- Chocolate Tart
- Poached Salmon with Beurre Blanc
- And, of course, the book's namesake recipe, Roast Chicken

Winner of both the 1994 André Simon and 1995 Glenfiddich awards (the gastronomic world's equivalent to an Oscar), this acclaimed book will inspire anyone who enjoys sharing the ideas of a truly creative cook and delights in getting the best out of good ingredients.

Praise:

"The most useful cookbook of all time" --Waitrose Food Illustrated

"This man is the best cook in Britain!" --Telegraph UK

"Roast Chicken and Other Stories, packed with homely native dishes, was recently voted the country's [UK's] most useful cookbook of all time by a panel of 40 experts." --R.W. Apple Jr., The New York Times

"The recipes and writing are pure genius, from start to finish. Roast Chicken and Other Stories belongs in every kitchen and on every bedside table." --Nigella Lawson

"This very personal collection of recipes lets you cook in someone else's shoes--some well-worn chef shoes at that--which lets you get to know someone while putting some great food on your table. With Roast Chicken and Other Stories you'll end up with a host of delectable dishes that happen to be utterly doable, even if Simon Hopkinson is one of Britain's great chefs. I love this collection, both the recipes and the stories!" --Deborah Madison

"Simon Hopkinson's recipes have been voted the best ever." --Daily Telegraph

"Called 'the most useful cookbook of all time,' Roast Chicken and Other Stories is actually better than that: it is also informative, intelligent, funny, and a pure delight to read and to cook from." --Jeremiah Tower
About the Author
Simon Hopkinson was born and raised in Lancashire. From his first restaurant job at age 17, La Normandie restaurant, where he worked under the tutelage of Yves Champeau, he then moved to London to set up Bibendum (right) in Kensington with Sir Terence Conran, which he left to pursue his food writing. He has written an award-winning column for The Independent since 1995. He lives in London.
or
Not Currently Available for Direct Purchase