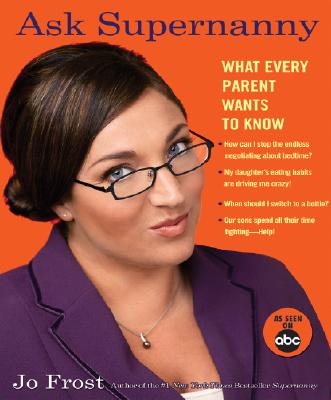 Ask Supernanny: What Every Parent Wants to Know (Paperback)
What Every Parent Wants to Know
Hyperion Books, 9781401308643, 224pp.
Publication Date: September 19, 2006
Description
Jo Frost, aka "Supernanny," is back to respond to all the new questions from parents who rely on her methods and advice. In ABC's prime time hit series and in her first book, Jo works magic on problem children. The Supernanny method gives parents the tools to tackle any problem, be it mealtime, bathtime, bedtime, bedwetting, homework, sibling rivalry, aggressive behavior, or a child who just won't do what he or she is told. This follow up to the original "Supernanny" will be in a Q&A format, and will include Jo's A to Z for positive reminders of good parenting, tips and practical solutions for family dynamics, mealtimes, bedtimes, home and away, and much more.
About the Author
Joanne Frost, who hails from London, has had over fifteen years' experience as a nanny, helping parents to get the best from their children. She continues to dedicate herself to the profession she loves. She spends her time between England and the United States. Her ABC TV series, "Supernanny, " was a hit in the UK and in the U.S.
Advertisement