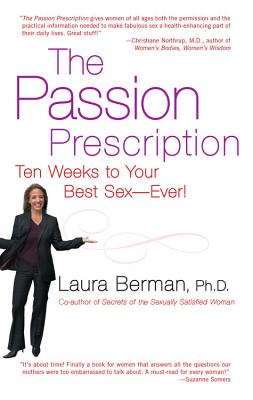 The Passion Prescription (Paperback)
Ten Weeks to Your Best Sex--Ever!
Hachette Books, 9781401308650, 304pp.
Publication Date: February 13, 2007
Other Editions of This Title:
Hardcover (2/1/2006)
* Individual store prices may vary.
Description
Is it exciting, satisfying, and passionate? Or is it just "good enough"? Well, good enough is not enough anymore! Every woman--young, older, married, or single--deserves a life of sexual fulfillment. Dr. Laura Berman, the nation's leading sex therapist, has gathered all the tools women need to recharge their sex lives into this practical, accessible guide.

From up-to-the-minute medical guidance to down-to-earth psychological assessments to straightforward talk on fantasies and toys, The Passion Prescription organizes all the elements of a sizzling sex life into one 10-week program. Each chapter explores specific recommendations and step-by-step homework to make change a reality. And since great sex is always a couple's issue, each chapter also includes a Guy's Guide, summarizing the information he needs to know to help The Passion Prescription work for you.

Dr. Berman, a clinical sex therapist for eighteen years, has an approach that combines extensive medical research with a good dose of creativity and common sense. There's no better person to help you fill your prescription for amazing sex!

Your best sex ever is just ten weeks away!
About the Author
Laura Berman, Ph.D., is a clinical assistant professor of OB/GYN and psychiatry at the Feinberg School of Medicine of Northwestern University and is founder and director of the Berman Center in Chicago, which specializes in sexual medicine and menopause management. She is the coauthor of Secrets of the Sexually Satisfied Woman and the national bestseller For Women Only. She lives in Chicago.