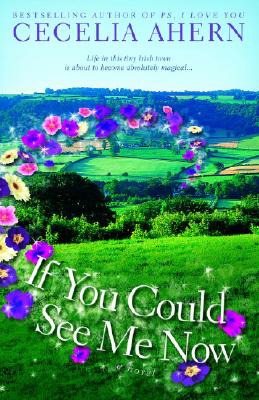 If You Could See Me Now
Paperback

* Individual store prices may vary.
Other Editions of This Title:
Mass Market (8/1/2007)
Hardcover (1/1/2006)
Description
From the bestselling author of P.S. I Love You and Love, Rosie, Cecelia Ahern, comes an enchanting novel that leads you to wonder if Not Seeing is believing!

Readers and critics alike adore Cecelia Ahern for her lighthearted yet insightful stories about modern women and their often unusual situations. In If You Could See Me Now, she takes that theme a step further, offering us a heroine who is entirely believable, and the new man in her life who is, well, slightly less so.

Elizabeth Egan's life runs on order: Both her home and her emotions are arranged just so, with little room for spontaneity. It's how she counteracts the chaos of her family -- an alcoholic mother who left when she was young, an emotionally distant father, and a free-spirited sister, who seems to be following in their mother's footsteps, leaving her own six-yearold son, Luke, in Elizabeth's care. When Ivan, Luke's mysterious new grown-up friend, enters the picture, Elizabeth doesnt know quite what to make of him. With his penchant for adventure and colorful take on things large and small, Ivan opens Elizabeth's eyes to a whole new way of living. But is it for real? Is Ivan for real?

If You Could See Me Now is a love story with heart -- and just a touch of magic.
Hachette Books, 9781401308667, 320pp.
Publication Date: January 9, 2007
About the Author
Cecelia Ahern is the author of the international bestsellers PS, I Love You; Love, Rosie; If You Could See Me Now; There's No Place Like Here; and The Gift. Her novels have been translated into thirty-five languages and have sold more than twenty-five million copies in over fifty countries. Two of her books have been adapted as major films and she has created several TV series in the US and Germany. She lives in Dublin with her family.
Who was Ivan sent to befriend—Elizabeth or Luke? Who's life does he change more?
Did you have an imaginary friend? How did he change your outlook on life?
At the end of the book, Elizabeth finally confronts her childhood. How does that change how she thinks about life? How did her childhood memory align with what really happens? How can memory cloud your reality?
or
Not Currently Available for Direct Purchase