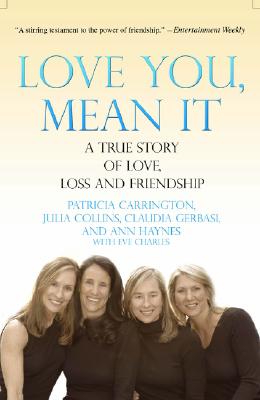 Love You, Mean It
A True Story of Love, Loss, and Friendship
Paperback

* Individual store prices may vary.
Other Editions of This Title:
Hardcover (9/5/2006)
Description
At a time of great loss, nothing heals like the power of friendship. Time heals all wounds, they say. But when your husband dies suddenly, on a glorious sunny day when all he did was go to work, it takes more than the passage of time to get you through. It takes the love and support of women who are exactly where you are -- and when you're lucky enough to find them, you cling to each other until you're strong enough to stand on your own. The truths you discover in the process are universal, compelling, and altogether inspiring. That was the lesson learned by Pattie Carrington, Julia Collins, Claudia Gerbasi, and Ann Haynes, four thirty-something women whose husbands worked at the World Trade Center. Before September 11, 2001, they didn't know each other, but in the months following that horrible day they came together, drawn as much by their diverse backgrounds as their shared tragedy. At their very first meeting, the foursome realized their bond was too special to ignore, and in no time their Widows Club had cemented into a source of hope and, soon, love that saw them through their darkest hours, and forward. They took to signing off emails and phone conversations with a lighthearted phrase: Love You, Mean It. "Feeling this love for one another meant our hearts were beginning to open again. It was a risk -- love brought with it the ever-present possibility of loss. But this was a risk worth taking. More than ever, we understood how important it was to put love at the center of our lives." A celebration of friendship, optimism, and empathy, Love You, Mean It is a shared memoir of rebuilt lives. It will offer hope to anyone who has suffered a loss, and exhilarate readers from coast to coast.
Hachette Books, 9781401309084, 336pp.
Publication Date: January 15, 2008
About the Author
Claudia Gerbasi grew up in Manhasset, NY in the neighboring town to her future husband, Bart Ruggiere. She has lived in NYC since 1992. Claudia and Bart were married in March of 2000. Claudia is currently a sales director for Cole Haan and lives with her current husband, John Donovan, in downtown Manhattan. Her passions include travel, scuba, yoga, reading, being with friends and family, and doing the Sunday Times crossword. Julia Collins is from Chattanooga, TN where she grew up one of five children. She moved to NYC in the spring of 1997, where she met and later married Tom Collins in 2000. She is currently employed with the National Football League in their consumer products division and resides on the upper east side of Manhattan. A former college cheerleader, her past-times include fitness boxing, running, playing golf, water skiing and travel. Ann Haynes grew up in Watertown, NY. After college, she moved to New York City and began her career in the financial services industry. In 1989, while pregnant with her first child TJ, she moved to the suburb community of Rye, NY. Here she met and later married her husband Ward Haynes in 1994. Three years later they had twins Billy and Elizabeth. Ann recently stopped working in order to devote more time to her three children. Pattie Carrington grew up in Rhode Island and Pennsylvania. She moved to NYC after graduating college and married her Englishman husband, Jeremy "Caz" Carrington in September 2000. Today, she lives in Brooklyn Heights, New York with her dog Lola. Pattie is the Director of Closed-end Funds at Deutsche Asset Management and spends weekends at her beach-house on Long Island.