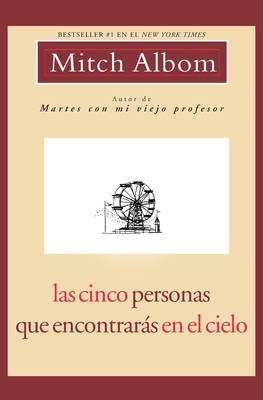 Las Cinco Personas Que Encontraras En El Cielo (Paperback)
Spanish Edition Five People
Hachette Books, 9781401309237, 224pp.
Publication Date: August 7, 2007
Other Editions of This Title:
CD-Audio (4/1/2008)
CD-Audio (9/26/2006)
* Individual store prices may vary.
Description
Now in Spanish, the number one New York Times hardcover bestseller The Five People You Meet in Heaven -- from the author of the New York Times bestsellers Tuesdays with Morrie and For One More Day.

The Spanish translation of the huge bestseller, Mitch Albom's The Five People You Meet in Heaven. Eddie is a wounded war veteran, an old man who has lived, in his mind, an uninspired life. His job is fixing rides at a seaside amusement park. On his 83rd birthday, a tragic accident kills him as he tries to save a little girl from a falling cart. He awakes in the afterlife, where he learns that heaven is not a destination. It's a place where your life is explained to you by five people, some of whom you knew, others who may have been strangers. One by one, from childhood to soldier to old age, Eddie's five people revisit their connections to him on earth, illuminating the mysteries of his "meaningless" life, and revealing the haunting secret behind the eternal question: "Why was I here?"
About the Author
Mitch Albom is an author, playwright, and screenwriter who has written seven books, including the international bestseller Tuesdays with Morrie, the bestselling memoir of all time. His first novel, The Five People You Meet in Heaven, was an instant number one New York Times bestseller that has since sold more than six million copies worldwide. Both books were made into acclaimed TV films. Mitch also works as a columnist and a broadcaster, and serves on numerous charitable boards. He lives with his wife, Janine, in Michigan.