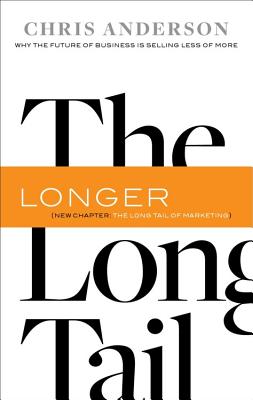 The Long Tail (Paperback)
Why the Future of Business Is Selling Less of More
Hachette Books, 9781401309664, 288pp.
Publication Date: July 8, 2008
* Individual store prices may vary.
Description
The New York Times bestseller that introduced the business world to a future that's already here--now in paperback with a new chapter about Long Tail Marketing and a new epilogue. Winner of the Gerald Loeb Award for Best Business Book of the Year In the most important business book since The Tipping Point, Chris Anderson shows how the future of commerce and culture isn't in hits, the high-volume head of a traditional demand curve, but in what used to be regarded as misses--the endlessly long tail of that same curve. "It belongs on the shelf between The Tipping Point and Freakonomics."
--Reed Hastings, CEO, Netflix "Anderson's insights . . . continue to influence Google's strategic thinking in a profound way." --Eric Schmidt, CEO, Google "Anyone who cares about media . . . must read this book." --Rob Glaser, CEO, RealNetworks
About the Author
Chris Anderson is Editor-in-Chief of Wired magazine, a position he's held since 2001. In 2002 and 2004, he led the magazine to a 2002 National Magazine Awards nomination for General Excellence. He has worked at The Economist, where he served as U.S. Business Editor. His career began at the two premier science journals, Science and Nature, where he served in several editorial capacities. He holds a Bachelor of Science degree in Physics from George Washington University and studied Quantum Mechanics and Science Journalism at the University of California at Berkeley.