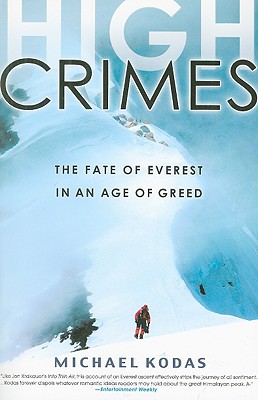 High Crimes (Paperback)
The Fate of Everest in an Age of Greed
Hachette Books, 9781401309848, 384pp.
Publication Date: May 5, 2009
Other Editions of This Title:
Digital Audiobook (2/4/2008)
Hardcover (2/1/2008)
* Individual store prices may vary.
Description
High Crimes is journalist Michael Kodas's gripping account of life on top of the world--where man is every bit as deadly as Mother Nature. In the years following the publication of Into Thin Air, much has changed on Mount Everest. Among all the books documenting the glorious adventures in mountains around the world, none details how the recent infusion of wealthy climbers is drawing crime to the highest place on the planet. The change is caused both by a tremendous boom in traffic, and a new class of parasitic and predatory adventurer. It's likely that Jon Krakauer would not recognize the camps that he visited on Mount Everest almost a decade ago. This book takes readers on a harrowing tour of the criminal underworld on the slopes of the world's most majestic mountain. High Crimes describes two major expeditions: the tragic story of Nils Antezana, a climber who died on Everest after he was abandoned by his guide; as well as the author's own story of his participation in the Connecticut Everest Expedition, guided by George Dijmarescu and his wife and climbing partner, Lhakpa Sherpa. Dijmarescu, who at first seemed well-intentioned and charming, turned increasingly hostile to his own wife, as well as to the author and the other women on the team. By the end of the expedition, the three women could not travel unaccompanied in base camp due to the threat of violence. Those that tried to stand against the violence and theft found that the worst of the intimidation had followed them home to Connecticut. Beatings, thefts, drugs, prostitution, coercion, threats, and abandonment on the highest slopes of Everest and other mountains have become the rule rather than the exception. Kodas describes many such experiences, and explores the larger issues these stories raise with thriller-like intensity.
About the Author
A Pulitzer-Prize-winning journalist, Michael Kodas has made a mark as an outdoor adventure reporter and photographer. Since 1987, Kodas has worked at The Hartford Courant on a remarkable set of stories. His work has also been published in The Los Angeles Times, The Washington Post, The Boston Globe, The Chicago Tribune, Newsweek magazine, and Backpacker Magazine. He lives in Hartford, CT.
Praise For High Crimes: The Fate of Everest in an Age of Greed…
"The perfect follow-up to Krakauer's riveting account of a perfect storm."—Miami Herald

"Kodas's absorbing description of the narrow moral compass governing human interaction at the top of the world is bound to shock both armchair adventurers and seasoned mountaineers."—Chicago Tribune

"(Kodas) discovered more deceit, thievery, and double-crossing among his climbers than you find in a Martin Scorsese gangster film. High Crimes is both an adventure story and an expos of a sport riddled with danger and corruption."—Washington Post Book World

"Kodas's descriptions of the struggles confronting even the best-prepared climbers leave the reader breathless."—Dallas Morning News

"[High Crimes] is hair-raising and lays bare the excitement and fear that face great explorers at the top of the world. . . . Well written, and as deftly plotted as the finest mystery novel, Kodas brings to life a disturbing picture of society at high altitude."—Austin Chronicle

"Kodas does an excellent job exposing the ways in which money and ego have corrupted the traditional cultures of both mountaineers and their Sherpa guides. . . . His narrative is as hard to turn away from as a slow-motion train wreck."—Publishers Weekly