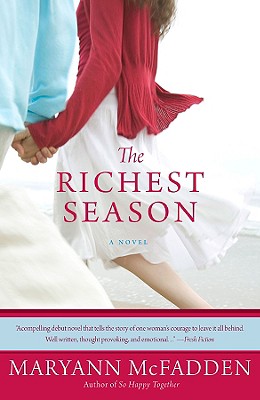 Richest Season (Paperback)
Hyperion - Acquired Assets, 9781401309916, 339pp.
Publication Date: June 1, 2009
Description
"Beautifully written . . . Lets readers into the characters' thoughts and feelings as they struggle to understand how the past has led them to their present situations."
--
Romantic Times
"A page-turner that will appeal to every woman who has ever felt lonely and isolated . . ."
--Raleigh News & Observer
"One of the best books I have ever read . . ."
--RomanceJunkies.com
"A compelling debut novel that tells the story of one woman's courage to leave it all behind . . ."
--Fresh Fiction
"Skillful plotting keeps pages turning . . ."
--Publishers Weekly
When lonely corporate wife Joanna Harrison runs away to Pawleys Island, she has no idea what happens next. But as a new life takes root, thanks to a passionate fisherman and a commitment to save endangered turtles, demands from her old life may force her to return. The Richest Season is a stunning debut that will resonate with any woman who's ever fantasized about leaving home to find herself.
About the Author
Maryann McFadden runs a successful real estate business but always wanted to write a novel; she did so and self published The Richest Season in 2006, selling 4000 copies. Hyperion's edition came out in June 2008, and received rave reviews. Maryann lives in Hackettstown, NJ.
Advertisement