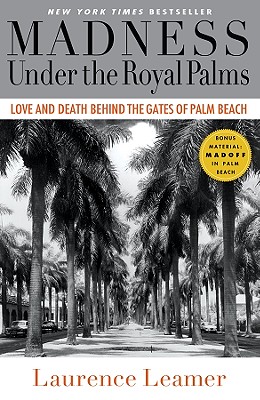 Madness Under the Royal Palms: Love and Death Behind the Gates of Palm Beach (Paperback)
Love and Death Behind the Gates of Palm Beach
Hyperion Books, 9781401310110, 368pp.
Publication Date: October 1, 2009
Description
Love, lust, and fatal hatreds inside America's most exclusive enclave of wealth and privilege--Palm Beach. Bernard Madoff's Ponzi scheme devastated the eternally sunny world of Palm Beach, bringing down multimillionaires and destroying once-wealthy widows. The South Florida island and its rarified life suddenly found itself at the epicenter of the scandal, with this strange universe of wealth and privilege under an unrelenting spotlight. Now, in Madness Under the Royal Palms, Laurence Leamer shows us--as no one else has--this world of the megawealthy, which he calls "as hidden a place as I have ever resided." Digging deep, he hits a dark well of conflicting ambitions--right up to and including murder--much darker than the sky-blue weather and sunny Lily Pulitzer prints most of us associate with Palm Beach.
About the Author
Laurence Leamer is the author of twelve books, including Make-Believe: The Life of Nancy and Ronald Reagan, The Kennedy Women, The Kennedy Men, King of the Night: The Life of Johnny Carson and Fantastic: The Life of Arnold Schwarzenegger. A member of the Peace Corps and a graduate of the Columbia School of Journalism, Leamer was on staff at Newsweek, and has written for The New York Times Magazine, Harper's, Playboy and many other publications.
Praise For Madness Under the Royal Palms: Love and Death Behind the Gates of Palm Beach…
"Leamer, who's lived in Palm Beach since '94, knows his stuff. . . . Madness offers buckets of heart-warming Schadenfreude for all."
-The Washington Post

"Now, as unflinching as Dante, the irrepressible Laurence Leamer . . . has turned his attention to the society in which he luxuriates most winters. Social lepidopterist that he is, in the 300-plus pages of Madness Under the Royal Palms Leamer pins out that gaudy, conflicted community like cornered butterflies fluttering, hectic and doomed."
-St. Petersburg Times

"Leamer meticulously paints the kind of frenzied desire to belong to the club, literally and metaphorically, that led people to abandon most principles."
-Bloomberg
Advertisement