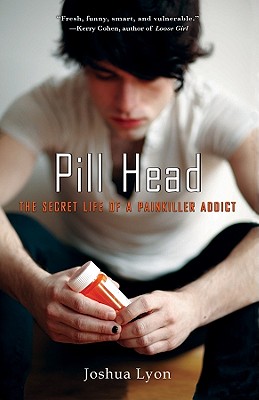 Pill Head
The Secret Life of a Painkiller Addict
Paperback

* Individual store prices may vary.
Other Editions of This Title:
Hardcover (7/7/2009)
Description
This compelling, honest book investigates the growing epidemic of prescription painkiller abuse among today's Generation Rx. Through gripping profiles and heartbreaking confessions, this memoir dares to uncover the reality -- the addiction, the withdrawal, and the recovery -- of this newest generation of pill poppers. Joshua Lyon was no stranger to substance abuse. By the time he was seventeen, he had already found sanctuary in pot, cocaine, Ecstasy, and mushrooms -- just to name a few. Ten years later, on assignment for Jane magazine, he found himself with a two-inch-thick bottle of Vicodin in his hands and only one decision to make: dispose of the bottle or give in to his curiosity. He chose the latter. In a matter of weeks he'd found his perfect drug. In the early half of this decade, purchasing painkillers without a doctor was as easy as going online and checking the spam filter in your inbox. The accessibility of these drugs -- paired with a false perception of their safety -- contributed to their epidemic-like spread throughout America's twenty-something youth, a group dubbed Generation Rx. Pill Head is Joshua Lyon's harrowing and bold account of this generation, and it's also a memoir about his own struggle to recover from his addiction to painkillers. The story of so many who have shared this experience--from discovery to addiction to rehabilitation -- Pill Head follows the lives of several young people much like Joshua and dares to blow open the cultural phenomena of America's newest pill-popping generation. Marrying the journalist's eye with the addict's mind, Joshua takes readers through the shocking and often painful profiles of recreational users and suffering addicts as they fight to recover. Pill Head is not only a memoir of descent, but of endurance and of determination. Ultimately, it is a story of encouragement for anyone who is wrestling to overcome addiction, and anyone who is looking for the strength to heal.
Praise For Pill Head: The Secret Life of a Painkiller Addict…
"Joshua Lyon preferred opiates, America's fastest growing addiction, and in this enlightening and harrowing pill by pill tour, he maps the secret trades that are taking place in every workplace, gym, bar, and neighborhood. With Pill Head, he demonstrates a crafty addict's ability to rationalize illicit pleasure, and a shrewd journalist's sense to doubt the long-term prospects of artificial narcotic happiness."—Michael Stein, author of The Addict: One Patient, One Doctor, One Year

"Pill Head is the perfect combination of informative and deeply personal; alarming and even sad. I wanted to hug Joshua Lyon after reading this. Anyone who has ever taken prescription medication recreationally should read this book. It's an eye-opener and it's not pretty, and it will speak to every single person who picks it up."—Lesley Arfin, author of Dear Diary

Lyon writes powerfully about his own experiences as a young, troubled gay man in New York City, and it's this human story that stays with the reader.—Publishers Weekly

As real as it gets.—Kirkus

The daring and honest PILL HEAD digs far deeper than the average memoir about addiction. With precision and uncommon empathy, Joshua Lyon exposes the facts about painkillers and those who abuse them; he also fearlessly reveals his own intense, often frightening story. PILL HEAD is a terrific book.—Scott Heim, author of We Disappear and Mysterious Skin
Hachette Books, 9781401310226, 288pp.
Publication Date: July 13, 2010
About the Author
Joshua Lyon is a journalist who has worked for several major publications including Interview, Conde Nast Traveler and Jane; he is currently a contributor to New York magazine and Page Six magazine. This is his first book.