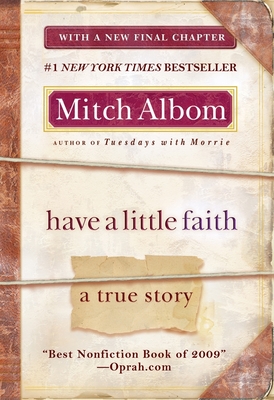 Have a Little Faith (Paperback)
A True Story
Hachette Books, 9781401310462, 272pp.
Publication Date: March 29, 2011
* Individual store prices may vary.
Description
Now including a new chapter for the paperback edition. "A masterpiece."
--Publishers Weekly "In the beginning there was a question. 'Will you do my eulogy' As is often the case with faith, I thought I was being asked a favor. In truth, I was being given one..." "An absolute wonder--tender, transporting, and deeply moving."
--Scott Turow, author of Presumed Innocent "The nonfiction equivalent to Paulo Coelho's The Alchemist."
--Sydney Morning Herald "A faith journey that could become a classic."
--Jim Wallis, author of The Great Awakening "Albom helps show the true definition of 'Church.' It is not the building, it is the people and their faith."
--Bishop T.D. Jakes, Chief Pastor, The Potter's House "Everybody should read it."
--Hoda Kotb in People, Best Book of 2009
About the Author
Mitch Albom is an author, playwright, and screenwriter who has written seven books, including the international bestseller Tuesdays with Morrie, the bestselling memoir of all time. His first novel, The Five People You Meet in Heaven, was an instant number-one New York Times bestseller that has since sold more than six million copies worldwide. For One More Day, his second novel, was also a #1 New York Times bestseller. Both books were made into acclaimed TV films. Mitch also works as a columnist and a broadcaster, and serves on numerous charitable boards. He lives with his wife, Janine, in Michigan.