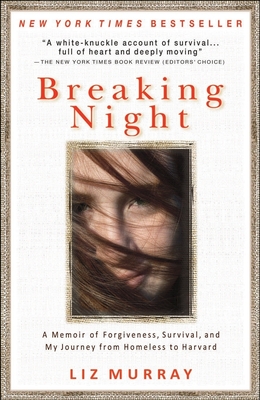 Breaking Night
A Memoir of Forgiveness, Survival, and My Journey from Homeless to Harvard
Paperback

* Individual store prices may vary.
Other Editions of This Title:
Digital Audiobook (6/14/2011)
MP3 CD (6/15/2011)
Prebound (5/24/2011)
Hardcover (9/7/2010)
Compact Disc (6/15/2011)
Compact Disc (6/15/2011)
Hardcover (1/1/2011)
Paperback (9/1/2011)
Paperback, Korean (12/12/2012)
Hardcover, Large Print, Large Print (1/1/2011)
Paperback (9/4/2011)
Description
In the vein of The Glass Castle, Breaking Night is the stunning memoir of a young woman who at age fifteen was living on the streets, and who eventually made it into Harvard.
Liz Murray was born to loving but drug-addicted parents in the Bronx. In school she was taunted for her dirty clothing and lice-infested hair, eventually skipping so many classes that she was put into a girls' home. At age fifteen, Liz found herself on the streets. She learned to scrape by, foraging for food and riding subways all night to have a warm place to sleep.
When Liz's mother died of AIDS, she decided to take control of her own destiny and go back to high school, often completing her assignments in the hallways and subway stations where she slept. Liz squeezed four years of high school into two, while homeless; won a New York Times scholarship; and made it into the Ivy League. Breaking Night is an unforgettable and beautifully written story of one young woman's indomitable spirit to survive and prevail, against all odds.
Praise For Breaking Night: A Memoir of Forgiveness, Survival, and My Journey from Homeless to Harvard…
"From runaway to Harvard student, Murray tells an engaging, powerfully motivational story about turning her life around.... In this incredible story of true grit, Murray went from feeling like "the world was filled with people who were repulsed by me" to learning to receive the bountiful generosity of strangers who truly cared."—Publishers Weekly (starred review)

"Truly uplifting ... Liz Murray has shown us the worst, and the very best, of America."—Haven Kimmel, author of A Girl Named Zippy and She Got Up Off the Couch

"The admirable story of a teen who overcame homelessness through sheer grit and the kindness of friends ... An uplifting story of survival."—Kirkus Reviews

"Breaking Night reads more like an adventure story than an addiction-morality tale. It's a white-knuckle account of survival. . . . By age 6, Murray knew how to mainline drugs (though she never took them) and how to care for her strung-out parents. She showed uncanny maturity, even as a child, and later managed to avoid that malady of teenagers and memoir writers, self-pity. . . . Murray's stoicism has been hard-earned; it serves her well as a writer. Breaking Night itself is full of heart, without a sliver of ice, and deeply moving."—The New York Times Book Review

"Education was the miracle that saved Murray's life. . . . Her story is inspirational, and her description of [her high school], and its role in her life, should be read by everyone concerned about education."—Washington Post Book World

"Liz Murray shows us that the human spirit has infinite ability to grow and can never be limited by circumstance. Breaking Night is a beautifully written, heartfelt memoir that will change the way you look at your community, the obstacles in your own life, and the American Dream. An inspiration; a must-read."—Robert Redford
Hachette Books, 9781401310592, 352pp.
Publication Date: May 24, 2011
About the Author
Liz Murray was left homeless at age fifteen after her mother's death from AIDS. She fended for herself on the streets, eventually returning to high school. She was accepted into Harvard, where she attended college classes for three years before taking time off to help her father, who died of AIDS. She returned to college, and is now taking graduate courses at Harvard. Liz gives speaking engagements around the country. A movie about her life, Homeless to Harvard, was made by Lifetime in 2003, and airs frequently.
The book begins with Liz Murray comparing herself—physically and otherwise—to her mother. In what ways are they alike? What specific instances of difference can you find? What do you think it was that allowed Liz to actualize her dreams in a way her mother couldn't?
What do you make of Liz's intense need, when young, to assist in keeping her parents safe (pp. 53-55)?
Consider the strong statements made by Liz's father about not caring what other people think of you (pp. 20, 59, 62, and 189). Is this always good advice? Is social opinion, or even shaming, an important part of culture? When and when not?
Articulate the different identities and resulting roles that the two sisters—Lisa and Liz—develop when quite young. Do you agree with Liz's idea that Lisa's time with a loving family explains her distant relationship with Ma and Daddy? What do you make of Lisa's harsh attempts to motivate and encourage Liz to go to school, or her cruel, disconnected treatment of her? Do you agree with the therapist's theory that the sisters couldn't be close because they were in competition for scant resources? How does their relationship evolve?
Throughout the book—beginning early, when Liz is quite young—she expresses self-blame (pp. 50-51, 68, 107, 117, and 210) regarding her troubled situations. Discuss this as a behavior in children. What purpose does it serve for them? What are the consequences for Liz as she matures?
Spending time with the Vasquez family began a desire in Liz to keep her home life a secret (p. 79). What role, if any, does this developing ability to hide significant elements of her life play throughout her life? When does this deception seem important? In what ways might it be harmful?
Discuss the transformative ideas Liz is presented with after a day hustling to pump gas for tips (pp. 88-89).
Eventually, Liz begins to shift from wanting to be involved with her parents, to the point of keeping watch during their drug activity to wanting to escape from her life with them (p. 111). What are the causes or changes in her that help explain this shift?
Examine the relationships that Liz has with her central group of friends. What do they provide for her that makes her feel that they are her new family?
Talk about Liz's intense relationship with Carlos. In what ways was it valuable or important? In what ways was it similar to or different from her life with her parents?
Consider the different essential needs of Liz at different stages of her life. What was most important to her when she was a girl who didn't yet attend school? During elementary school? At St. Anne's? At Brick's? On the street with Sam? Once back in school, at Prep?
Articulate and discuss the specific things—in addition to an education—that Perry Weiner, the co-founder of the Humanities Preparatory Academy, offered to Liz.
After hearing Liz's story, what do you think about the nature of human will? Why are some people able to overcome such hardships and create a successful life, while others never can? Consider the role and function of social services. Did the institution fail, or did Liz refuse to be helped? Why do you think Humanities Preparatory Academy was so much more successful helping Liz?