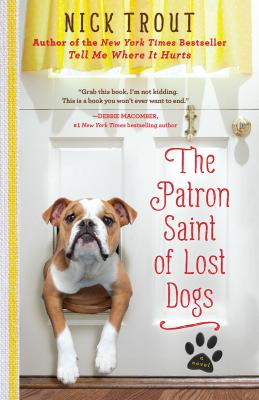 The Patron Saint of Lost Dogs (Paperback)
Hyperion Books, 9781401310882, 340pp.
Publication Date: February 12, 2013
Description
Dr. Cyrus Mills returns to his hometown after inheriting his father's failing veterinary practice. Cyrus intends to sell the practice and get out of town as fast as he can, but when his first patient--a down-on-her-luck golden retriever named Frieda Fuzzypaws--wags her way through the door, life suddenly gets complicated. With the help of a black Labrador gifted in the art of swallowing underwear, a Persian cat determined to expose her owner's lover as a gold digger, and the allure of a feisty, pretty waitress from the local diner, Cyrus gets caught up in a new community and its endearing residents, both human and animal. Sensing he may have misjudged the past, he begins to realize it's not just his patients that need healing. "The Patron Saint of Lost Dogs" is a winsome tale of new beginnings, forgiveness, and the joy of finding your way home.
About the Author
Nick Trout graduated from veterinary school at the University of Cambridge in 1989. He is a Diplomate of the American and European Colleges of Veterinary Surgeons and is a staff surgeon at the prestigious Angell Animal Medical Center in Boston. He is the author of three books, the New York Times bestseller Tell Me Where It Hurts, Love Is the Best Medicine, and Ever By My Side; and has been a contributing columnist for The Bark and Prevention magazines. Nick considers himself a runner (though his marathon days are behind him), an avid reader, and a passionate advocate for the Cystic Fibrosis Foundation. He lives in Massachusetts with his wife, two daughters, and their two dogs, Meg, their yellow Labrador, and Sophie, their Jack Russell terrier.
Praise For The Patron Saint of Lost Dogs…
"Grab this book. I'm not kidding. You're going to love this story. There's romance, redemption, a dog named Frieda and a whole lot more. This is a book you won't ever want to end."—Debbie Macomber, #1NYT bestselling author

"I don't know what was more enjoyable, Nick Trout's inexperienced veterinarian with his slightly tweaked outlook, the clannish Vermont town, or the intrigue of finding what was lost. I stayed up long into the night laughing and marveling at Trout's adept hand."—Jacqueline Sheehan, New York Times bestselling author of Picture This

"I tore through this is one sitting. Engaging, insightful, and full of the genial warmth that makes Nick Trout's other work such a joy to read."—Gwen Cooper, New York Times bestselling author of Homer's Odyssey

"The Patron Saint of Lost Dogs is every bit as sweet and slightly goofy as the golden retriever who sets Nick Trout's romp of a novel into a whirl of motion that never lets up from the very first page. There are few pleasures in life sweeter than watching the bitter, conniving Dr. Cyrus Mills a vet who's definitely not in the lovable James Herriott mold gradually morph into a generous human being, thanks to the influence of his animal patients. I dare you to feel crabby after reading this book."—Bob Tarte, author of Kitty Cornered and Enslaved by Ducks

"A delightful, endearing, and frequently hilarious story of a man who lost his way and found it again through a plate of meatloaf, a frigid Vermont winter, and a pair partially digested, oversized red silk boxer shorts, The Patron Saint of Lost Dogs is a story that reminds us of the truth that is hidden away in our hearts: loving our animals is a sure way to heal our souls."—Garth Stein, author of the New York Times bestseller, The Art of Racing in the Rain

"Smartly written . . . reminiscent of the work of James Herriot."—Publishers Weekly

"A doggone charming tale . . . two paws up."—Kirkus

"Trout's charming novel strikes just the right balance between humor and drama. The cast of characters are delightfully entertaining . . . Highly recommended for anyone who has ever had a beloved pet."—Library Journal (starred)
Advertisement