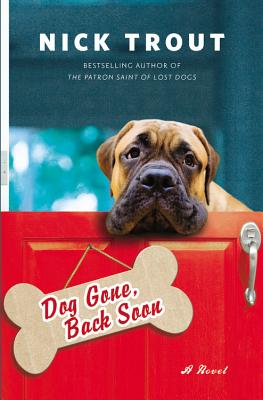 Dog Gone, Back Soon
Paperback

* Individual store prices may vary.
Other Editions of This Title:
Digital Audiobook (7/8/2014)
Paperback (11/3/2015)
MP3 CD (7/9/2014)
Compact Disc (7/9/2014)
Compact Disc (7/9/2014)
Description
When Dr. Cyrus Mills returned home after inheriting his estranged father's veterinary practice, The Bedside Manor for Sick Animals, the last thing he wanted was to stay in Eden Falls, Vermont, a moment longer than absolutely necessary. However, the previously reclusive veterinarian pathologist quickly found that he actually enjoyed treating animals and getting to know the eccentric residents of the tiny provincial town-especially an alluring waitress named Amy.

So Cyrus is now determined to make Bedside Manor thrive. Not an easy goal, given that Healthy Paws, the national veterinary chain across town, will stop at nothing to crush its mom-and-pop competitor. And the rival vet practice isn't Cyrus's only competition; a handsome stranger shows up out of nowhere who clearly has a mysterious past with Amy. To top it off, Cyrus finds himself both the guardian of a very unique orphaned dog and smack in the middle of serious small town drama.

This charming sequel to The Patron Saint of Lost Dogs is a wild and delightful ride through one jam- packed week, where Cyrus must figure out how to outsmart the evil veterinary conglomerate, win back Amy's heart, solve several tricky veterinary cases, find a home for an orphaned dog, and detangle himself from an absurd case of mistaken identity. DOG GONE, BACK SOON brims with Nick Trout's trademark humor, charm, and captivating animal stories, and is proof that all dogs, lost or not, on four feet or two, deserve a second chance.
Praise For Dog Gone, Back Soon…
"Pawsitively delightful.... [Nick Trout] once again hits the mark with a wholesome, heartwarming story.... No doubt many animal lovers are panting in anticipation of the next Bedside Manor installment."

—Kirkus Reviews

"This novel is packed with intriguing medical mysteries and a veterinarian hero who understands animals but is clueless about humans. An entertaining read for animal lovers."—W. Bruce Cameron, author of A Dog's Purpose

"An enjoyable read...Trout writes from a place of deep knowledge and regard for the bonds people have with their companion animals, and his wry sense of humor provides many smile-inducing moments."
—Bark Magazine

"Animal lovers can unite in heartfelt agreement on the delightful charm, drama, and humor of Trout's follow-up. The book is full of intriguing and colorful characters but none so engaging and endearing as Cyrus, the socially awkward, but genuinely kind, country vet."—Library Journal (starred)

"Pet lovers, grab your bookmarks. There's a new Big Dog on the shelves, and his name is Nick Trout... Your book group will like this book. Your parents will like this book. And I think you will, too, particularly if your roommate has four feet."—Terri Schlichenmeyer, "Bookworm Sez," syndicated column
Hachette Books, 9781401310899, 336pp.
Publication Date: April 8, 2014
About the Author
Nick Trout is a staff surgeon at the prestigious Angell Animal Medical Center in Boston. He is the author of the New York Times bestseller Tell Me Where It Hurts, Love Is the Best Medicine, Ever By My Side, and The Patron Saint of Lost Dogs, and is a contributing columnist for The Bark magazine. He lives in Massachusetts with his wife, Kathy, and their adopted labradoodle, Thai.