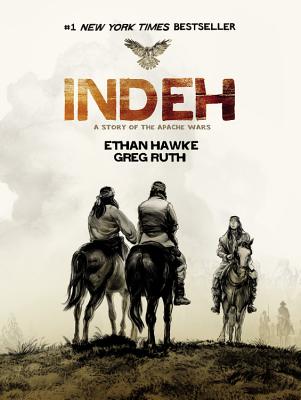 Indeh
A Story of the Apache Wars
Hardcover

* Individual store prices may vary.
Other Editions of This Title:
Paperback (6/6/2017)
Description
Based on exhaustive research, this graphic novel offers a remarkable glimpse into the raw themes of cultural differences, the horrors of war, the search for peace, and, ultimately, retribution. The Apache left an indelible mark on our perceptions of the American West; Indeh shows us why.
The year is 1872. The place, the Apache nations, a region torn apart by decades of war. The people, like Goyahkla, lose his family and everything he loves. After having a vision, the young Goyahkla approaches the Apache leader Cochise, and the entire Apache nation, to lead an attack against the Mexican village of Azripe.
It is this wild display of courage that transforms the young brave Goyakhla into the Native American hero Geronimo.
But the war wages on. As they battle their enemies, lose loved ones, and desperately cling on to their land and culture, they would utter, "Indeh," or "the dead." When it looks like lasting peace has been reached, it seems like the war is over. Or is it?

Indeh captures the deeply rich narrative of two nations at war -- as told through the eyes of Naiches and Geronimo -- who then try to find peace and forgiveness. Indeh not only paints a picture of some of the most magnificent characters in the history of our country, but it also reveals the spiritual and emotional cost of the Apache Wars.
Praise For Indeh: A Story of the Apache Wars…
"INDEH is brilliant. It's an important and tough and beautiful and brutal book. Hawke and Ruth don't flinch in their recreation of one of our modern continent's most important and mythical creation stories. Please read this important graphic novel. You'll lose yourself in it."—Joseph Boyden

"Ethan Hawke and Greg Ruth's INDEH is haunting, powerful and gorgeous. Every brushstroke, and every word, take readers deeper into this often forgotten corner of America's history and into the soul of the Apache people. Easily one of the best graphic novels of the year."—Jeff Lemire, author of the Essex County trilogy

"A crucial book about a fundamental part of our recent history: America's war to subjugate the Apache. Moving and unforgettable, INDEH puts the lie to every movie about the west you have ever seen."—Philipp Meyer, author of The Son and American Rust: A Novel

"Beautiful brushstrokes by Ruth bring the conflict between the Apache and the United States in 1872 to life in a collaboration with actor Hawke that strives to escape Hollywood's western mythos... this respectful approach to America's shameful history is a good start to fourth a conversation often neglected."—Publisher's Weekly

"Seldom has the brutally escalating Apache War-or any war-been depicted with such breathtaking beauty as it is here."—Booklist

"Ethan Hawke's Hollywood script-worthy storytelling with artist Greg Ruth's realistic illustrations brings of the darkest wars in American history to life."—Cowboys & Indians
Grand Central Publishing, 9781401310998, 240pp.
Publication Date: June 7, 2016
About the Author
Ethan Hawke is an accomplished actor, screenwriter, film and theatre director, and novelist. He has been nominated for Academy Awards for both acting and writing, a Tony award, and a Drama Desk Award for both acting and directing.

Greg Ruth is a New York Times bestselling author and illustrator of The Lost Boy, and illustrator for Freaks of the Heartland and Conan comics, among others. He lives in Western Massachusetts.
or
Not Currently Available for Direct Purchase