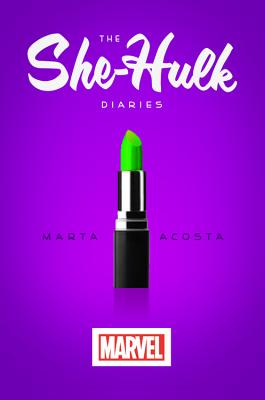 The She-Hulk Diaries
Paperback

* Individual store prices may vary.
Description

JANUARY 1
CURRENT STATUS: No job, no boyfriend, no permanent place to live, no car, and most of my clothes are held together with staples and duct tape. Bank account almost wiped out. Many of my former associates have expressed a desire that I never darken their doorways again for legal and financial reasons.

She-Hulk got us got us kicked out of the Avengers Mansion. People keep posting videos online of her New Year's Eve shenanigans: twirling flaming telephone poles in Times Square, climbing the Empire State Building while dangling Anderson Cooper, dancing wildly at parties, and commandeering a motorcycle cop's ride to do wheelies across the Brooklyn Bridge.

Saying there are two sides to Jennifer Walters's personality is an understatement. When she hasn't morphed into a 650-pound, crime-fighting, hard-partying superhero, she's a single lawyer trying to get her act together. Hilarious and action-packed, The She-Hulk Diaries tells her story, as she juggles looking for Mr. Right and climbing the corporate ladder by day with battling villains and saving the world by night. Maybe she'll finally take on a case that will define her career. Maybe she won't meet one Mr. Right, but two, and she'll have to choose. Maybe bad guys will stop trying to destroy the planet so she can read her Perez Hilton in peace.
Praise For The She-Hulk Diaries…
"Marta Acosta's
She-Hulk Diaries
is
an absolute delight
. Those who are unfamiliar with Bruce Banner's wayward cousin are in for a treat as they read about Jennifer Walters and her firsthand dilemmas trying to navigate her new attorney's job, an old flame, and the ongoing festivities/adventures/partying life of her gamma-irradiated female Hulk side. Whether you like She-Hulk straight up, comedic, or a combination of both,
She-Hulk Diaries
is the She-Hulk endeavor for you."—
Peter David, author of Hulk and The Incredible Hulk: What Savage Beast
Ellis' take on the Marvel Comics superhero She-Hulk is sweet and funny and will delight readers whether they're into superhero comics or not.
—
Booklist
Acosta ("Casa Dracula" series) offers a fresh and lively take on a comic book heroine in
The She-Hulk Diaries
. Jennifer /Shulky is lovable and funny. With a sizable dash of adventure and romance to spice things up, this is a good choice for the comic-book nerd as well as the light romance reader. Woodward's
Rogue Touch
feels more serious than
The She-Hulk Diaries
but is equally entertaining. Fans of the X-Men and any reader who enjoys a strong female lead will want this volume. It will have some cross-over appeal for older teen readers as well.—
Library Journal
Kingswell, 9781401311018, 336pp.
Publication Date: June 18, 2013
or
Not Currently Available for Direct Purchase