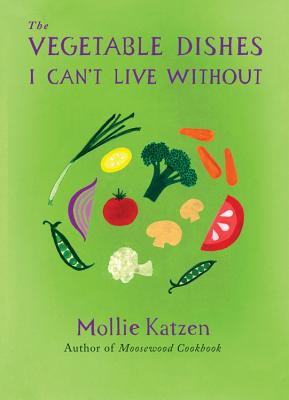 The Vegetable Dishes I Can't Live Without (Hardcover)
Hachette Books, 9781401322328, 160pp.
Publication Date: October 9, 2007
* Individual store prices may vary.
Description
Sometimes we need a little inspiration when it comes to adding more vegetables to our plate. Thankfully for us, Mollie Katzen knows a thing or two about vegetables! On the 30th anniversary of her groundbreaking Moosewood Cookbook, Mollie presents just under 100 delicious vegetable side dishes in this delightful and beautiful cookbook. Whether you need an appetizer, a quick and easy snack for the kids, or something to accompany a main dish, this cookbook offers creative recipes and countless ways to infuse more vegetables into our diets. Both vegetarians and meat-eaters alike can benefit from these tasty and healthy side dishes, many of which you can even serve as stand-alone meals. The Vegetable Dishes I Can't Live Without is an assortment of mostly new recipes, with new twists on some old favorites. Presented in her signature style and with her classic hand-drawn illustrations, these are the recipes she loves the most, and the recipes her millions of fans will most cherish.
About the Author
Now a household name, author and illustrator Mollie Katzen is widely credited with bringing vegetarian cooking into the mainstream. Born in Rochester, New York, she studied at the Eastman School of Music, Cornell University and the San Francisco Art Institute, where she received a B.F.A. in painting. Katzen published her first cookbook, The Moosewood Cookbook, in 1977, which showed millions of Americans that eating healthy doesn't have to mean sacrificing taste or style. Her classic illustrated cookbooks include The Enchanted Broccoli Forest, Still Life with Menu, and Mollie Katzen's Vegetable Heaven. Katzen has also published several award-winning cookbooks for children, and is currently a featured writer and illustrator for Children's Television Workshop On-Line, as well as Sesame Street Parent's Magazine.