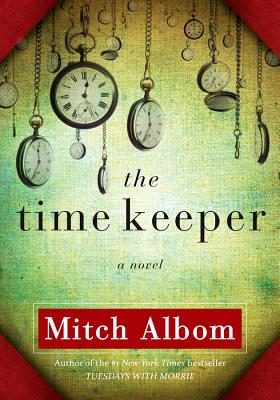 The Time Keeper
Hardcover

* Individual store prices may vary.
Other Editions of This Title:
Digital Audiobook (9/3/2012)
Paperback (10/1/2013)
Mass Market (10/27/2015)
Paperback (10/29/2012)
Mass Market Paperback (4/30/2013)
Hardcover, Large Print (10/10/2012)
CD-Audio (9/24/2013)
CD-Audio (9/4/2012)
Description
From the author who's inspired millions worldwide with books like Tuesdays with Morrie and The Five People You Meet in Heaven comes his most imaginative novel yet, The Time Keeper--a compelling fable about the first man on Earth to count the hours.

The man who became Father Time.

In Mitch Albom's exceptional work of fiction, the inventor of the world's first clock is punished for trying to measure God's greatest gift. He is banished to a cave for centuries and forced to listen to the voices of all who come after him seeking more days, more years.

Eventually, with his soul nearly broken, Father Time is granted his freedom, along with a magical hourglass and a mission: a chance to redeem himself by teaching two earthly people the true meaning of time.

He returns to our world--now dominated by the hour-counting he so innocently began--and commences a journey with two unlikely partners: one a teenage girl who is about to give up on life, the other a wealthy old businessman who wants to live forever. To save himself, he must save them both. And stop the world to do so.

Told in Albom's signature spare, evocative prose, this remarkably original tale will inspire readers everywhere to reconsider their own notions of time, how they spend it, and how precious it truly is.
Hachette Books, 9781401322786, 240pp.
Publication Date: September 4, 2012
About the Author
Mitch Albom is an author, playwright, and screenwriter who has written seven books, including the international bestseller Tuesdays with Morrie, the bestselling memoir of all time. His first novel, The Five People You Meet in Heaven, was an instant number one New York Times bestseller that has since sold more than six million copies worldwide. Both books were made into acclaimed TV films. Mitch also works as a columnist and a broadcaster, and serves on numerous charitable boards. He lives with his wife, Janine, in Michigan.
n what ways were you aware of the role time plays in your life before you read The Time Keeper? Besides watching the clock, make a list of ways you count or measure in your everyday life. Explore the many ways that measuring and counting have benefitted human beings in the history of our development.
Considering Dor's eventual obsession with measurements of time, what are the dangers of such an approach to life? Where do you draw the line for yourself?
Think about Dor's final visit with King Nim. What makes Nim a leader of the people? Are his and Dor's abilities mutually exclusive? Why does Dor refuse to help Nim? Why must Nim banish Dor from the kingdom?
Chapter 36 begins with the question "Can you imagine having endless time to learn?" Would you want time to be endless? Why or why not?
Consider Sarah Lemon. What is she like? What are her particular, significant challenges in the world?
When we first meet Sarah, she is begging for more time as she gets ready for her date with Ethan. Much later, she desperately wants time to just end. How do you explain such profound differences in her attitude toward time?
What is Victor Delamonte like? In what ways has his disciplined work ethic benefitted him? In what ways has it limited his life experience?
Both Sarah and Victor act with desperation regarding their time due to profound suffering. Is this always the case, that it is only when things are not well that time seems slower?
From Sarah, Dor learns the phrase time flies (when you're having fun). Why does time seem to go faster when we enjoy ourselves? Is this always the case?
During his torturous time in the cave, Dor makes symbols on the wall to mark and remember key moments in his life. What are the many ways we mark the passing of time? How—other than by taking photos—do you order and stay connected to times past?
Albom uses the technique of showing characters the future. What other examples of this in literature can you think of?
What's the significance of Victor choosing his wife's name, Grace, as the emergency word to stop the cryonics process?
or
Not Currently Available for Direct Purchase