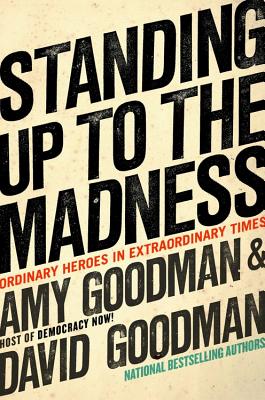 Standing Up to the Madness: Ordinary Heroes in Extraordinary Times (Hardcover)
Ordinary Heroes in Extraordinary Times
Hyperion, 9781401322885, 272pp.
Publication Date: April 1, 2008
* Individual store prices may vary.
or
Not Currently Available for Direct Purchase
Description
Standing Up to the Madness not only is a timely, inspiring, and even revolutionary look at who wields the greatest power in America--everyday people who take a chance and stand up for what they believe in--but also offers advice on what you can do to help.
Where are the millions marching in the streets to defend human rights, civil liberties, and racial justice? Where is the mass revulsion against the killing and torture being carried out in our name? Where are the environmentalists? Where is the peace movement?
The answer: They are everywhere.
The award-winning sister-brother team of Amy Goodman, host of Democracy Now , and investigative journalist David Goodman traveled the country to detail the ways in which grassroots activists have taken politics out of the hands of politicians. Standing Up to the Madness tells the stories of everyday citizens who have challenged the government and prevailed.
As the Bush administration has waged war abroad and at home, it has catalyzed a vast groundswell of political action. From African-American residents of deluged New Orleans who are fighting racism and City Hall to regain their homes; to four Connecticut librarians who refused to spy on their patrons, challenged the USA PATRIOT Act, and won; to a group of high school students who were barred from performing a play they wrote on the Iraq War based on letters from soldiers; to the first U.S. Army officer to publicly refuse orders to deploy to Iraq, charging that his duty as an officer is to refuse to fight in an illegal and immoral war, Standing Up to the Madness profiles citizens rising to extraordinary challenges. And, in the process, they are changing the way that politics is done, both now and in the future.
In communities around the United States, courageous individuals have taken leaps of faith to stop the madness. They could only hope that if they led, others would follow. That is how movements are born. What begins as one, eventually becomes many. In that tradition, the authors have included the ways in which any individual can take action and effect change.
About the Author
Amy Goodman is an internationally acclaimed journalist. She has won many of the most prestigious awards in journalism, including the George Polk Award, the Alfred I duPont-Columbia University Award, and the Robert F. Kennedy Prize for International Reporting. Democracy Now! airs on more than 200 radio and TV stations around the world. David Goodman is an award-winning independent journalist whose articles have appeared in The Washington Post, Mother Jones, Outside, The Nation, and numerous other publications. He is the author most recently of the critically acclaimed Fault Lines: Journeys into the New South Africa. He lives with his wife and two children in Vermont.
Advertisement