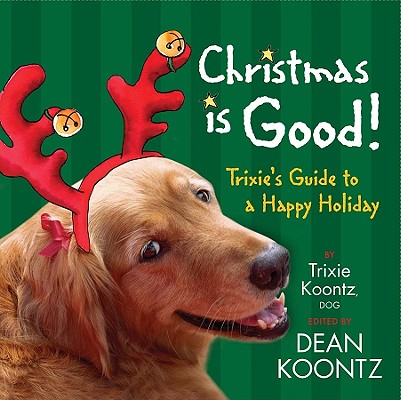 Christmas Is Good (Hardcover)
Trixie's Guide to a Happy Holiday
Hyperion, 9781401322946, 64pp.
Publication Date: October 1, 2009
* Individual store prices may vary.
Description
A Big Little Book of Holiday Fun for Dogs and Their People with Trixie's Secrets for the Merriest of Seasons.
"Sometimes seems people forget wonder of Christmas. Dog like me could help people see wonder again."
"Is not necessary to spend fortune on gift. If it tastes like bacon, everyone will like it."
"Do not tie cat to tree as decoration. Is funny, but not worth losing your nose."
Special surprise Christmas gift inside: A DOG TREAT RECIPE FOR YOU!
All author proceeds from this book are donated to Canine Companions for Independence.
About the Author
I, Trixie (who is dog), lived with mom and dad, Gerda and Dean Koontz. They feeded me, walked me, loved, me, and sitted with me all night when was thunder. I was good dog, then got sick and now me lives in heaven.
or
Not Currently Available for Direct Purchase