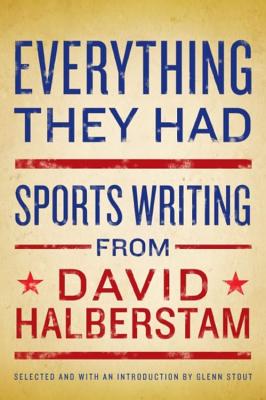 Everything They Had
Sports Writing from David Halberstam
Hardcover

* Individual store prices may vary.
Other Editions of This Title:
Paperback (5/12/2009)
Description
"Sometimes sports mirrors society, sometimes it allows us to understand the larger society a little better. But mostly, it is a world of entertainment of talented and driven young men and women who do certain things with both skill and passion."
--David Halberstam David Halberstam was a distinguished journalist and historian of American politics. He was also a sports writer. Everything They Had brings together for the first time his articles from newspapers and magazines, a wide-ranging collection edited by Glenn Stout, selected over the full scope of Halberstam's five decades as one of America's most honored journalists. These are dazzling portraits of some of the most compelling sports figures of our era, the superstars of popular sports like basketball, football, and baseball, but also fishing, soccer, and rowing, and the amateur athletes who play for the love of the game. In "My Dinner with Theodore," Halberstam recounts his long anticipated--and unforgettable--meeting with Red Sox legend Ted Williams. Against the backdrop of 1960s Nashville, he beautifully recounts a lifelong love of football in "How I Fell in Love with the NFL." And "Men Without Women," set on a fishing expedition in Patagonia, is more than a hunt for giant brown trout--it is a story of fishing, friendship, and fellowship. These and many more stories exemplify the breadth and depth of David Halberstam's devotion to diverse sports and his respect and fascination for the men and women who play them so well. The result is an intimate and personal collection that reveals the issues and the ideals David Halberstam cared about--racial equality, friendship, loyalty, and character--and creates a vivid and unforgettable portrait of the author himself. Everything They Had takes its rightful place alongside Halberstam's bestselling sports titles, which include The Breaks of the Game, The Amateurs, Summer of '49, and The Education of a Coach.
Hachette Books, 9781401323127, 432pp.
Publication Date: May 6, 2008
About the Author
David Halberstam (1934-2007) was the author of twenty-two books, including fifteen bestsellers. Born in New York City, Halberstam spent much of the 1960s as a reporter for the New York Times, covering the Vietnam War and the Civil Rights movement. His Vietnam reporting earned him both a George C. Polk Award and a 1964 Pulitzer Prize for International Reporting. Vanity Fair dubbed Halberstam "the Moses of American journalism," and the subjects of his books reflect his passion and range: war, foreign policy, history, and sports.

The Best and the Brightest (1962), his sixth book, a critique of the Kennedy administration's Vietnam policy, became a #1 bestseller. His next book, The Powers that Be, a study of four American media companies, was hailed by the New York Times as a "prodigy of research." Many of Halberstam's books explored themes in professional sports, including bestsellers The Teammates, a portrait of the friendship between baseball players Ted Williams, Dominic DiMaggio, Johnny Pesky, and Bobby Doerr, and The Education of a Coach, a profile of New England Patriots' Coach Bill Belichick.
or
Not Currently Available for Direct Purchase