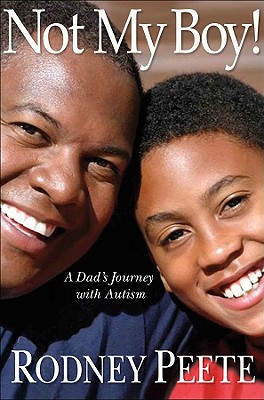 Not My Boy!: A Father, A Son, and One Family's Journey with Autism (Hardcover)
A Father, A Son, and One Family's Journey with Autism
Hyperion, 9781401323615, 256pp.
Publication Date: March 1, 2010
* Individual store prices may vary.
or
Not Currently Available for Direct Purchase
Description
In Not My Boy!, Rodney Peete offers not only a heartrending, candid look inside his personal journey with his son's autism but a first-of-its-kind, inspirational road map that will help families facing similar challenges to move forward. Effectively woven throughout Peete's moving account of his life with his son R.J. are the powerful voices, insights, and dreams of other fathers, high-profile figures as well as unsung heroes, who've traveled this difficult path. Autism affects four times as many boys as it does girls. For their fathers, expectations and hopes are drastically changed--as NFL star Rodney Peete's were when his son R.J. was diagnosed at the age of three. After a period of anger and denial, an all-too-common reaction among fathers, Rodney joined his wife, Holly, in her efforts to help their son. With determination, love, and understanding, the family worked with R.J. to help him once again engage with the world. Eight challenging years later, R.J. has gone from the son one doctor warned would never say "I love you" to a thriving, vibrant boy who scored his first soccer goal while his dad cheered from the sidelines. Praise for Not My Boy! "I wish I had something fancy to say, but this story is simply beyond words--just read it! I vote to make Rodney's book, Not My Boy!, required reading for every first-time, second-time, or any-other-time father."
--Will Smith / actor, producer "Rodney Peete writes a compelling book that will help fathers emotionally deal with the challenge of raising a child with autism. The mental toughness of a man all but disappears when faced with this reality, but Rodney's candid message will encourage anyone who is chosen to be on this journey."
--Alonzo Mourning, former NBA player "Not My Boy is a must-read for parents--especially dads--who have a child on the autism spectrum. It's inspiring, enlightening, and most importantly, truthful. Rodney gives the reader the real story on how autism can cause total dysfunction in the family, and in even the strongest of marriages, if husband and wife don't work as a team. He opens up his heart, and speaks candidly about his mistakes, all the while learning how to best help R.J. in his battle to overcome the challenges of autism. Their fight is by no means over, but the experiences that he shares will help every family, and every couple, to be better advocates, teachers, and parents."
--Artie Kempner, lead director for NASCAR/NFL on Fox "A book every father needs to read! Not My Boy is about unconditional love. I read it in one weekend. . . . It was and is amazing."
--Cyd Wilson, InStyle magazine
About the Author
Rodney Peete is a former quarterback from the University of Southern California who played in the NFL for 16 years. After his retirement in 2004, Peete became one of the hosts of the Fox Sports Net talk show The Best Damn Sports Show Period alongside John Salley, Chris Rose, and Rob Dibble. In 1997, Peete and his wife, Holly Robinson, started the HollyRod Foundation, which seeks to provide fininancial, physical and emotional suppport to Parkinson's patients and their families/caregivers. The couple has twins, Rodney Jr. ("R.J.") and Ryan, and sons Robinson and Roman.
Coverage from NPR
Advertisement