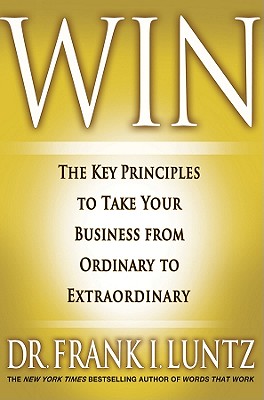 Win: The Key Principles to Take Your Business from Ordinary to Extraordinary (Hardcover)
The Key Principles to Take Your Business from Ordinary to Extraordinary
Hyperion Books, 9781401323998, 300pp.
Publication Date: March 1, 2011
Description
From the
New York Times
bestselling author and top pollster Dr. Frank Luntz comes an unprecedented examination of communication excellence and how top performers win in all areas of human endeavor by utilizing superb communication skills. From Mike Bloomberg and Arnold Schwarzenegger to business icons Rupert Murdoch, Steve Wynn, and Fred Smith; to the CEOs of MGM Resorts, J. Crew, and Gibson Guitar; to legendary sports superstars like Larry Bird, Jimmy Connors, and Mike Richter; to media legends Roger Ailes, Don Imus, and dozens more, Luntz tells their stories--in their own words--and demonstrates how their style of operation and communication is absolutely essential to their success. Luntz makes it clear that following the rules of effective communication is indispensable in any successful human endeavor.
Dr. Luntz offers more than seventy new "
words that work
" for private one-on-one meetings with your boss, for public presentations to hundreds of colleagues, or for television appearances that reach millions. There are more than three dozen specific lessons and recommendations--and each one directly illustrates the nine essential action-oriented principles of winning at every level: People-Centered, Paradigm-Breaking, Prioritizing, Perfection, Partnerships, Passion, Persuasion, Persistence, and Principled Actions.
Do you have what it takes
Win
is an unprecedented examination of the art, science, and language of winning, and a must-have for people who want to understand and emulate the winners of today.
THE DEFINITION OF WINNING

The ability to grasp the human dimension of every situation
The ability to know what questions to ask and when to ask them
The ability to see the challenge, and the solution, from every angle
The ability to communicate their vision passionately and persuasively
The ability to connect with others and create an enduring chemistry
and 10 other universal attributes of winners.
About the Author
Frank Luntz is one of the most respected communication professionals in America today. He has written, supervised, and conducted more than a thousand surveys and focus groups for corporate and public affairs clients here and abroad. He has developed campaigns for Merrill Lynch, Federal Express, AT&T, Pfizer, and McDonalds. Dr. Luntz is the first resource media outlets turn to when they want to understand American voters. His recurring segments on MSNBC/ CNBC during the 2002 election cycle won an Emmy. He is a regular on Fox where he can be seen 1-3 times per week. Dr. Luntz lives in Alexandria, VA.
Coverage from NPR
Advertisement