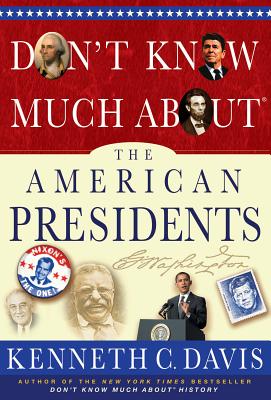 Don't Know Much about the American Presidents: Everything You Need to Know about the Most Powerful Office on Earth and the Men Who Have Occupied It (Hardcover)
Everything You Need to Know about the Most Powerful Office on Earth and the Men Who Have Occupied It
Hyperion Books, 9781401324087, 730pp.
Publication Date: September 18, 2012
* Individual store prices may vary.
or
Not Currently Available for Direct Purchase
Description
Which president broke the law to prevent enslaved people from being freed? Who said, "When the president does it, that means it's not illegal"? Why does America have a president? From the heated debates among the framers of the Constitution in 1787 over an "elected king," to the creation of the presidency, and on through rich profiles of each man who has held the office, New York Times bestselling author Kenneth C. Davis takes readers on a guided tour of American history. Examining each chief executive, from the low lights to the bright lights, the memorable to the forgettable and the forgotten, Davis tells all the stories, offering rich anecdotes about real people. He also charts the history of the presidency itself, debunking myths and grading the presidents from A+ to F. For history buffs and history-phobes alike, this entertaining book may change your understanding of the highest office in the land throughout more than two hundred years of history.
About the Author
After giving rise to the Don't Know Much About series, Ken Davis has been dubbed "The King of Knowing" by Amazon.com because he becomes a subject expert in all of the areas he writes about: the Bible, mythology, the universe, the Civil War, for example. Ken Davis is a frequent media guest and has appeared on hundreds of television and radio shows, including NPR, The Today Show, Fox and Friends, CNN, and The Discovery Channel. He has been a commentator for All Things Considered, has written for the New York Times, CNN.com, and Smithsonian magazine, and serves as an educator for TED-ED, a new division of TED that share free "lessons worth sharing" via brief animated videos. In addition to his adult titles, he writes the Don't Know Much About Children's series published by HarperCollins. He lives in New York with his wife. They have two grown children.
Advertisement