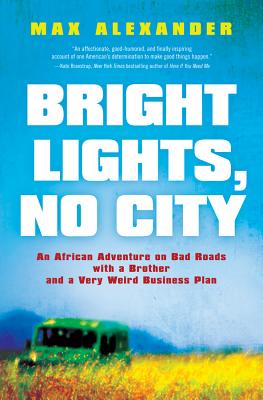 Bright Lights, No City (Hardcover)
An African Adventure on Bad Roads with a Brother and a Very Weird Business Plan
Hyperion Books, 9781401324179, 378pp.
Publication Date: July 17, 2012
* Individual store prices may vary.
or
Not Currently Available for Direct Purchase
Description
The hilarious story of two brothers, a truckload of batteries, and a brilliant plan to bring light--and new business opportunities--to Ghana

At age 47, Whit Alexander, the American co-founder of the Cranium board game, decided to start a new business selling affordable goods and services to low-income villagers in Ghana, West Africa. His brother Max, a journalist, came along to tell the story. Neither of them could have anticipated just how much of an adventure they'd find there.

In Ghana, Whit's initial goal is to market a high quality rechargeable AA battery that off-grid villagers could use to power their flashlights and radios, as well as to charge their cell phones. If successful, he planned to grow a larger for-profit business based on those batteries--creating a trusted African brand that would provide life-enhancing products, services, and jobs, without relying on charity.

Ghana, however, presents extraordinary challenges, and the brothers wage daily battles against deadly insects, insane driving conditions, unspeakable food, voodoo priests, corrupt officials, counterfeiters, and ethnic rivalries on their way to success. From signing up customers who earn a few dollars a month at most to training employees with no Western-style work experience, the brothers quickly learn that starting a business in Africa requires single-minded focus, a sense of humor, and a lot of patience.

Along the way, Whit and Max relive their own childhood, bickering across the African bush and learning a great deal about Africans as well as themselves. Irreverent, hilarious, and ultimately inspiring, Bright Lights, No City challenges accepted notions of charity, shows the power of broadening your horizons, and suggests that there is hope and opportunity in Africa.
About the Author
Max Alexander is a former executive editor of Variety and Daily Variety, and a former senior editor at People magazine. He has co-authored several books, ranging from a cookbook to business books. His writing appears in Smithsonian, Reader's Digest, Money and the New York Times. USA Today rated his first book, Man Bites Log, about his experiences moving from Hollywood and New York to a Maine farm, as one of the best nature books of 2004. He has edited many other books, including George Plimpton's last book, Shackleton. He lives in Maine.
Praise For Bright Lights, No City: An African Adventure on Bad Roads with a Brother and a Very Weird Business Plan…
"An affectionate, good-humored and finally inspiring account of one American's determination to make good things happen."
-Kate Braestrup, New York Times bestselling author of Here If You Need Me

"My boss, Bill Gates, coined the phrase 'creative capitalism' to encourage the use of market forces to address the needs of the poor. But my friend, Whit Alexander, moved creative capitalism from ideas to bold practice. Bright Lights, No City will scratch your travel bug, tickle your business brain, and touch your heart."
-Patty Stonesifer, former CEO of the Bill & Melinda Gates Foundation

"I thoroughly enjoyed this adventure, which helps to prove that what much of the developing world needs is a hand up, not a hand out."
-John Wood, founder of Room to Read and author of Leaving Microsoft to Change the World

"I loved, loved, loved Bright Lights, No City. A tour de force! Bravo. It's perceptive, informative, thoughtful, engaging, funny."
-Carey Winfrey, editor emeritus, Smithsonian magazine and former Africa correspondent, New York Times

"Max Alexander has woven a compassionate and oft-times hilarious tale of the Brothers Alexander's attempt to save the world, one rechargeable battery at a time. If you have any interest in a great story or helping the other 4 billion, read this book, now."
-W. Hodding Carter, author of Westward Whoa and A Viking Voyage

"A lyrically written universal testimony to the humanity that binds all people together on this fragile planet, Bright Lights, No City is a deeply moving and funny, can't-put-it-down book."
-Frank Schaeffer, author of Crazy for God

"This book is filled with the passion and relentless pursuit that it takes to make dreams come to life, and reminds you that it takes compassion, luck, and humor to make history. A must read for every entrepreneur."
-Richard Tait, Co-Founder, Cranium; CEO, Galazo
Advertisement