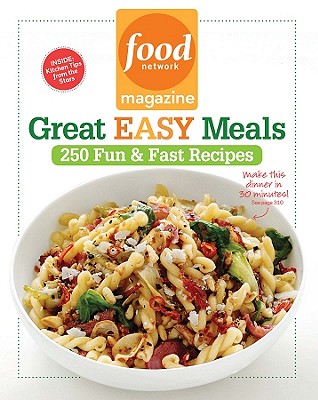 Food Network Magazine Great Easy Meals
250 Fun & Fast Recipes
Paperback

* Individual store prices may vary.
Description
"What's for dinner? You'll find all the answers you need in this eagerly awaited first cookbook from the best-selling Food Network Magazine.
Inspired by the magazine's popular "Weeknight Cooking" section, this book is packed with great family recipes from Food Network Kitchens, plus dozens of tips from the chefs. With this book, you'll be able to put fun new dinners on the table every night, along with dozens of simple sides and 10-minute desserts. And each recipe comes with a photograph, so you'll see exactly what your dish will look like when you take it to the table.
Best of all, each chapter comes with an exciting mix-and-match feature that lets you write your own recipes and try new twists on your family's favorite dishes. You'll be able to make mac and cheese dozens of ways, throw together tasty new stir-fries, and reinvent chicken dinners again and again.
This is easy cooking at its best: Just look at the all-photo recipe index and see what grabs you. You'll have dinner done in no time!
Look inside for 250 amazing (and amazingly easy!) recipes, plus sneak peeks at the stars' home kitchens, and a list of Food Network's ultimate pantry essentials.
With this book, anyone can cook like a star!
Recipes include:
Hoisin Chicken with Cucumber Salad
Manchego-Stuffed Pork Burgers
Apple-Cheddar-Squash Soup
Garlic-Sesame Spinach
Cold Curry-Peanut Noodles
Glazed Radishes
Tilapia with Green Beans
Ricotta, Ham, and Scallion Tart
Japanese-Style Crispy Pork
Bacon-Cheddar Mashed Potatoes
Seared Steak with Chard Salad
Gnocchi NivÃ?ise
Chololate-Glazed Pound Cake
Tiramisu Trifles
Chocolate Crv®me Brvªlv©e
Peach Melba
"
Hachette Books, 9781401324193, 416pp.
Publication Date: March 15, 2011
About the Author
Food Network Magazine is a joint venture of Hearst Magazines, a unit of Hearst Corporation and Food Network, a unique lifestyle network. The magazine is has a circ of 1.5 million. Hearst Magazines is one of the world's largest publishers of monthly magazines, with nearly 200 editions around the world, including 15 U.S. titles.
or
Not Currently Available for Direct Purchase