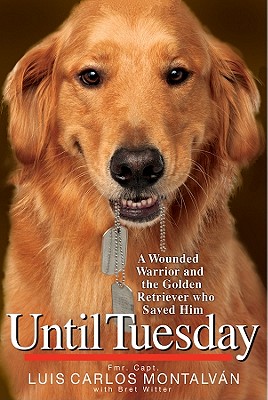 Until Tuesday (Hardcover)
A Wounded Warrior and the Golden Retriever Who Saved Him
Hachette Books, 9781401324292, 272pp.
Publication Date: May 3, 2011
Other Editions of This Title:
Paperback (4/10/2012)
Compact Disc (4/10/2012)
Paperback (4/10/2012)
MP3 CD (11/1/2011)
Pre-Recorded Audio Player (12/1/2017)
MP3 CD (6/16/2015)
Compact Disc (11/1/2011)
Paperback (5/1/2011)
Hardcover (5/1/2011)
MP3 CD (11/1/2011)
Compact Disc (11/1/2011)
Hardcover, Large Print (10/21/2011)
* Individual store prices may vary.
Description
"We aren't just service dog and master;
Tuesday and I are also best friends. Kindred souls. Brothers.
Whatever you want to call it. We weren't made for each other,
but we turned out to be exactly what the other needed."

A highly decorated captain in the U.S. Army, Luis Montalván never backed down from a challenge during his two tours of duty in Iraq. After returning home from combat, however, the pressures of his physical wounds, traumatic brain injury, and crippling post-traumatic stress disorder began to take their toll. Haunted by the war and in constant physical pain, he soon found himself unable to climb a simple flight of stairs or face a bus ride to the VA hospital. He drank; he argued; ultimately, he cut himself off from those he loved. Alienated and alone, unable to sleep or bend over without pain, he began to wonder if he would ever recover.

Then Luis met Tuesday, a beautiful and sensitive golden retriever trained to assist the disabled. Tuesday had lived amongst prisoners and at a home for troubled boys, blessing many lives; he could turn on lights, open doors, and sense the onset of anxiety and flashbacks. But because of a unique training situation and sensitive nature, he found it difficult to trust in or connect with a human being-until Luis.

Until Tuesday is the story of how two wounded warriors, who had given so much and suffered the consequences, found salvation in each other. It is a story about war and peace, injury and recovery, psychological wounds and spiritual restoration. But more than that, it is a story about the love between a man and dog, and how together they healed each other's souls.
About the Author
Luis Carlos Montalván is a 17 year veteran and retired Captain of the US Army where he earned the Combat Action Badge, two Bronze Stars, and the Purple Heart. Luis' writing is published by
The New York Times, The Washington Post, The San Francisco Chronicle
, and
The International Herald Tribune
(among others), and NPR, CBS, AFP, BBC, C-SPAN, ANP, and Democracy Now have all featured his amazing personal tale and vocal criticism of the war. Luis lives in Brooklyn and is a student at The Columbia University Graduate School of Journalism.
www.luiscarlosmontalvan.com
Bret Witter is the writer behind
Dewey: The Small Town Library Cat Who Touched the World
, which spent months on the
Times
Bestseller List and has sold over 1.5 million copies worldwide.