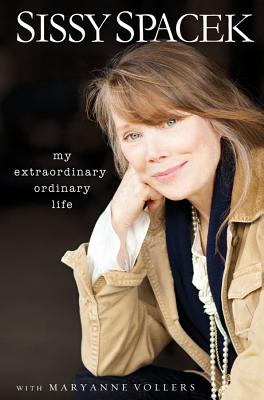 My Extraordinary Ordinary Life (Hardcover)
Hachette Books, 9781401324360, 288pp.
Publication Date: May 1, 2012
Other Editions of This Title:
Digital Audiobook (4/30/2012)
CD-Audio (5/1/2012)
* Individual store prices may vary.
Description
In her delightful and moving memoir, Sissy Spacek writes about her idyllic, barefoot childhood in a small East Texas town, with the clarity and wisdom that comes from never losing sight of her roots. Descended from industrious Czech immigrants and threadbare southern gentility, she grew up a tomboy, tagging along with two older brothers and absorbing grace and grit from her remarkable parents, who taught her that she could do anything. She also learned fearlessness in the wake of a family tragedy, the grief propelling her "like rocket fuel" to follow her dreams of becoming a performer. With a keen sense of humor and a big-hearted voice, she describes how she arrived in New York City one star-struck summer as a seventeen-year-old carrying a suitcase and two guitars; and how she built a career that has spanned four decades with films such as Carrie, Coal Miner's Daughter, 3 Women, and The Help. She details working with some of the great directors of our time, including Terrence Malick, Robert Altman, David Lynch, and Brian De Palma-who thought of her as a no-talent set decorator until he cast her as the lead in Carrie. She also reveals why, at the height of her fame, she and her family moved away from Los Angeles to a farm in rural Virginia. Whether she's describing the terrors and joys of raising two talented, independent daughters, taking readers behind the scenes on Oscar night, or meditating on the thrill of watching a pair of otters frolicking in her pond, Sissy Spacek's memoir is poignant and laugh-out-loud funny, plainspoken and utterly honest. My Extraordinary Ordinary Life is about what matters most: the exquisite worth of ordinary things, the simple pleasures of home and family, and the honest job of being right with the world. "If I get hit by a truck tomorrow," she writes, "I want to know I've returned my neighbor's cake pan."
About the Author
Sissy Spacek was raised in Quitman, Texas, the daughter of an agriculturalist and a homemaker. From her Oscar-nominated performance in Carrie, based on Stephen King's book, to her Academy-Award-winning portrayal of country singer Loretta Lynn in Coal Miner's Daughter, in which she sang all of Lynn's songs and earned a Grammy nomination, her acclaimed guest role on HBO's Big Love, and her uproarious turn in The Help, she has enjoyed an enduring career in movies and television. She lives in Virginia with her husband, the production designer, Jack Fisk, six dogs, and one cat who thinks he's a dog.
Praise For My Extraordinary Ordinary Life…
"My Extraordinary Ordinary Life is the book version of Sissy: warm, heartfelt, and very real. Perhaps most remarkable is that Sissy's life--from the ordinary experiences of growing up in and raising a close-knit family to the extraordinary thrills of starring in some of the most iconic roles in Hollywood--unfolds as gracefully on the page as it does on the big screen and, as all of her readers will soon learn, in everyday life."—Kathryn Stockett, New York Times bestselling author of The Help

"My Extraordinary Ordinary Life describes a remarkable woman's journey from a baton-twirling East Texas gal to an Academy-Award winning star. Sissy Spacek tells her story with warmth and grace, never straying far from the small-town roots that shaped her."—Jeannette Walls, New York Times bestselling author of The Glass Castle and Half Broke Horses

"[A] warm narrative Like a folk song, Spacek's storytelling is tender and unhurried."—Publishers Weekly, starred review

"Sissy Spacek writes with the same bright animation and verve as she has lived her, indeed, extraordinary life."—Sally Mann, artist and writer

"I took this book to heart, for in the end, there is no more devoted friend, no more faithful friend than Memory, a friend who commands you to interrogate and lay bare the sweetness and its opposite, of your everyday existence, the unexpected turns of it, the mystery of your origins. My Extraordinary Ordinary Life is not only a splendid example of that, but it reminds us of Sissy Spacek's true voice, a voice that we first come to know in a uniquely American way, through a character in a movie. But the soul of this dear book is not a fiction, it is shaped and infused with truth and love."—Jamaica Kincaid, award-winning author
Coverage from NPR