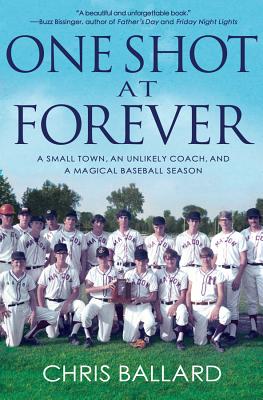 One Shot at Forever: A Small Town, an Unlikely Coach, and a Magical Baseball Season (Hardcover)
A Small Town, an Unlikely Coach, and a Magical Baseball Season
Hyperion Books, 9781401324384, 254pp.
Publication Date: May 15, 2012
Description
The Inspirational Story of a Coach, a Baseball Team, and the Season They'll Never Forget In 1971, a small-town high school baseball team from rural Illinois playing with hand-me-down uniforms and peace signs on their hats defied convention and the odds. Led by an English teacher with no coaching experience, the Macon Ironmen emerged from a field of 370 teams to represent the smallest school in Illinois history to make the state final, a distinction that still stands. There, sporting long hair and warming up to Jesus Christ Superstar, the Ironmen would play a dramatic game against a Chicago powerhouse that would change their lives forever. In this gripping, cinematic narrative, Sports Illustrated writer Chris Ballard tells the story of the team and its coach, Lynn Sweet, a hippie, dreamer, and intellectual who arrived in Macon in 1966, bringing progressive ideas to a town stuck in the Eisenhower era. Beloved by students but not administration, Sweet reluctantly took over the ragtag team, intent on teaching the boys as much about life as baseball. Inspired by Sweet's unconventional methods, the undersized, undermanned Macon Ironmen embarked on an improbable postseason run that infuriated rival coaches and buoyed a town suffering from a damaging drought and the shadow of the Vietnam War-one in desperate need of something to celebrate. In a final grace note, Ballard returns to the present day, revisiting the 1971 Ironmen to explore the effect the game had on their lives' trajectories-and the men they've become because of it. Engaging and poignant, One Shot at Forever is a testament to the power of high school sports to shape the lives of those who play them, and it reminds us that there are few bonds more sacred than that among a coach, a team, and a town.
About the Author
Chris Ballard is a Senior Writer at Sports Illustrated. In his ten years at the magazine he's written features, columns and bonus-length stories and covered a range of subjects, from the NBA and MLB to high-stakes pigeon racing and bass fishing. His work has been anthologized in the Best American Sports Writing series and he has twice been nominated by SI for a National Magazine Award. Ballard has also written a number of stories for the New York Times Magazine and is the author of three books: Hoops Nation (Holt, 1998), The Butterfly Hunter (Doubleday, 2006) and The Art of a Beautiful Game: The Thinking Fan's Tour of the NBA (Simon & Schuster/SI Books, 2009). He lives in Berkeley, CA.
Praise For One Shot at Forever: A Small Town, an Unlikely Coach, and a Magical Baseball Season…
"One Shot at Forever is tender, fun, bittersweet, with a great narrative that just motors. It also features the funkiest coach not just in the history of baseball but the history of sport-an unforgettable character in a beautiful and unforgettable book."
-Buzz Bissinger, author of Father's Day and Friday Night Lights

"There's a reason Chris Ballard has emerged as one of America's top sports writers. One Shot at Forever is powerful, inspirational and-in an era where sports are too often marred by scandal-as pure and true as a warm spring breeze. This isn't merely a book about baseball. It's a book about heart."
-Jeff Pearlman, New York Times bestselling author of Boys Will Be Boys and The Bad Guys Won

"This book is so well told by Chris Ballard that it gives sportswriting a good name."
-Frank Deford, author of Over Time: My Life as a Sportswriter

"Chris Ballard brings a big heart and a winning style to tell a memorable story of small-town Illinois. The boys of Macon renew our understanding of why baseball matters--and sometimes, why it matters too much."
-Cait Murphy, author of Crazy '08

"[A] nonfiction gem about an underdog team that made good. This is the kind of baseball book that has long arms: YA readers, avid baseball fans, sports readers, and narrative nonfiction readers who like to be firmly set in a particular time and place should all find it joyful."
-Library Journal

"Chris Ballard finds the heart in the heartland, in this inspirational tale of a small-school ball club that reaches for glory."
-Edward Achorn, author of Fifty-nine in '84

"This story has obvious parallels to the classic basketball film Hoosiers and in Ballard's capable hands evokes similar themes of inspiration, camaraderie and the pressure of the once-in-a-lifetime moments associated with prep athletics . Ballard effortlessly captures the conflict between Eisenhower era beliefs and the changing cultural landscape in Vietnam-era America . [He] holds the story of the team together with his conversational prose and boosts the story's poignancy with a touching conclusion that demonstrates the importance of high school sports and hometown heroes."
-Publishers Weekly
Advertisement