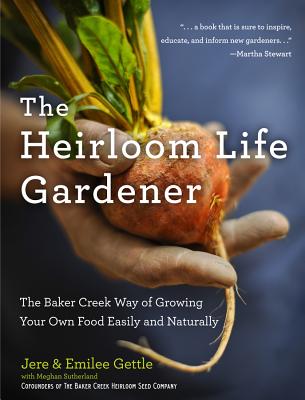 The Heirloom Life Gardener (Hardcover)
The Baker Creek Way of Growing Your Own Food Easily and Naturally
Hachette Books, 9781401324391, 240pp.
Publication Date: October 4, 2011
* Individual store prices may vary.
Description
Tired of genetically modified food every day, Americans are moving more toward eating natural, locally grown food that is free of pesticides and preservatives-and there is no better way to ensure this than to grow it yourself. Anyone can start a garden, whether in a backyard or on a city rooftop; but what they need to truly succeed is The Heirloom Life Gardener, a comprehensive guide to cultivating heirloom vegetables.

In this invaluable resource, Jere and Emilee Gettle, cofounders of the Baker Creek Heirloom Seed Company, offer a wealth of knowledge to every kind of gardener-experienced pros and novices alike. In his friendly voice, complemented by gorgeous photographs, Jere gives planting, growing, harvesting, and seed saving tips. In addition, an extensive A to Z Growing Guide includes amazing heirloom varieties that many people have never even seen. From seed collecting to the history of seed varieties and name origins, Jere takes you far beyond the heirloom tomato. This is the first book of its kind that is not only a guide to growing beautiful and delicious vegetables, but also a way to join the movement of people who long for real food and a truer way of living.
About the Author
Jere Gettle's passion for farming developed early, and by the age of seventeen he was in business, selling seeds from his bedroom in Mansfield, Missouri. He didn't set out to start an empire, but to save heritage plant varietals from being lost to genetically modified mega plants and to wave the banner for a way of life he saw rapidly disappearing. He began traveling to far off places, Asia, South America; anywhere he could find and swap rare and unusual seeds, and started a seed catalog that now has 350,000 devoted customers. His seed company employs over 200 full time staff and includes a store, vegan restaurant, and pioneer village in his home town of Mansfield, Mo., as well as two other retail operations--the Seed Bank in Petaluma, California, and Comstock in Westerfield, Connecticut.