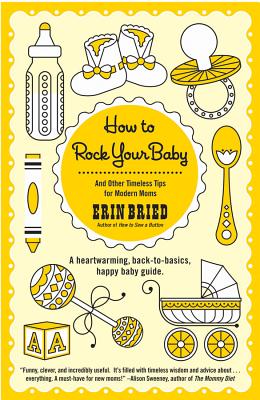 How to Rock Your Baby: And Other Timeless Tips for Modern Moms (Paperback)
And Other Timeless Tips for Modern Moms
Hyperion Books, 9781401324599, 274pp.
Publication Date: April 3, 2012
* Individual store prices may vary.
or
Not Currently Available for Direct Purchase
Description
Just what every new mother needs--100 charming and useful step-by-step how-to's, advice, and stories, culled from mothers and grandmothers throughout the ages. As a first-time mother, Erin Bried found she had countless things to worry about. She realized she didn't want to follow the latest trends--she wanted real, time-tested advice about how to calm her baby when she cries, get her to burp after she eats, and change her diapers as quickly as humanly possible. So she sought out real experts: mothers who've raised extraordinary children and whose simple advice has stood the test of time. Women like Esther Safran Foer, mother of novelist Jonathan Safran Foer; Elaine Maddow, mother of MSNBC host Rachel Maddow; and Sunchita Tyson, mother of astrophysicist Neil deGrasse Tyson, among others. Based on what she learned from these amazing moms, Erin shares time-tested ways to calm a teething baby, make homemade baby food, knit booties, lull a baby to sleep, and so much more. Written with charm, heart, and just the right amount of sass, and filled with retro illustrations, "How to Rock Your Baby" is the perfect gift for new mothers everywhere.
About the Author
ERIN BRIED is a senior staff writer at SELF magazine. She lives with her daughter and her better half in Brooklyn, New York, where she grows tomatoes on her fire escape, knits crooked scarves for loved ones and eats homemade pie for breakfast as often as possible.
Praise For How to Rock Your Baby: And Other Timeless Tips for Modern Moms…
"Funny, clever and incredibly useful. It's filled with timeless wisdom and advice about . . . everything. A must-have for new moms!"
-Alison Sweeney, author of The Mommy Diet

"The instruction manual we've all been waiting for."
-SELF magazine

"Bried's buoyant, conversational, and practical text will surely be a welcome addition to any family welcoming a newborn into the fold."
-Publishers Weekly

Bried "brings a breezy, energetic tone to her material. (For the hospital, she advises, pack 'undies so baggy, they'd embarrass you under any other circumstances.') This makes her book feel less like a manual and more like a long, insanely thoughtful letter from a friend who's made it to the other side."
-BUST magazine

"Erin Bried tapped into a wealth of experience."
-The Boston Globe

"How to Rock Your Baby has tips, humor and some surprises. . . . Highly useful, Bried's book is a fun read and yields time-tested techniques."
-The Oregonian

"No-nonsense advice and instruction from 10 remarkable and noteworthy mothers."
-Anchora magazine

"You'll find common sense wisdom on everything all written in an upbeat and helpful voice. Because one more thing we new moms need? More upbeat, helpful voices."
-Coolmompicks.com

"The perfect book to inform, educate, and take the edge off all the pregnancy stress."
-Mommieswithstyle.com
Advertisement