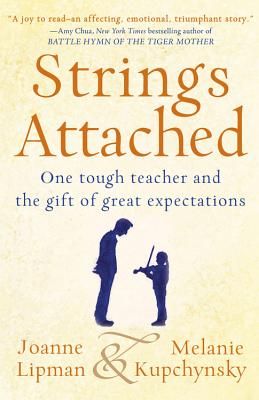 Strings Attached: One Tough Teacher and the Gift of Great Expectations (Hardcover)
One Tough Teacher and the Gift of Great Expectations
Hyperion Books, 9781401324667, 326pp.
Publication Date: December 1, 2013
* Individual store prices may vary.
or
Not Currently Available for Direct Purchase
Description
THE FINE ART OF TOUGH LOVE.
If you're lucky, somewhere in your past is that one person who changed your life forever. The one who pushed you to dream bigger and to reach higher, and who set you straight on what matters in life. Perhaps it was a coach, or a professor, or a family friend.
For Joanne Lipman and Melanie Kupchynsky, that person was a public-school music teacher, Jerry Kupchynsky, known as Mr. K--a Ukrainian-born taskmaster who yelled and stomped and screamed, and who drove his students harder than anyone had ever driven them before. Through sheer force of will, he made them better than they had any right to be.
"Strings Attached" tells the inspiring, poignant, and powerful story of this remarkable man, whose life seemed to conspire against him at every turn and yet who was able to transform his own heartache into triumph for his students.
Lyrically recounted by two former students--acclaimed journalist Joanne Lipman and Mr. K's daughter, Chicago Symphony Orchestra violinist Melanie Kupchynsky--"Strings Attached" takes you on a journey that spans from his days as a forced Nazi laborer and his later home life as a husband to an invalid wife, to his heart-breaking search for his missing daughter, Melanie's sister.
This is an unforgettable tale--a captivating narrative that is as absorbing as fiction--about the power of a great teacher, but also about the legacy that remains long after the last note has faded into silence: lessons in resilience, excellence, and tough love.
"Strings Attached" is for anyone indebted to a mentor and for those devoted to igniting excellence in others.
About the Author
Joanne Lipman is one of the nation's most prominent journalists and commentators. She was a Deputy Managing Editor of The Wall Street Journal and she founded and was Editor-in-Chief of Portfolio. Currently, she is a Newsweek columnist and advisor to news organizations such as CNN and New York Public Radio. She is a frequent television commentator, appearing on CNN, CBS, and CNBC, among others.

Melanie Kupchynsky has been a violinist with the Chicago Symphony Orchestra for more than 20 years, during which time the symphony has won 21 Grammys. She began studying violin at the age of four with her father and the subject of the book, Jerry "Mr. K" Kupchynsky. Melanie began her career with the Boston Pops Esplanade Orchestra under the direction of John Williams. With the CSO, she has performed around the globe under the world's greatest conductors and with the world's most prominent soloists. She remains an active chamber musician as well, most recently performing as part of the Chicago Symphony's "Citizen Musician" outreach program in Moscow and St. Petersburg, and with Yo Yo Ma in Chicago.
Praise For Strings Attached: One Tough Teacher and the Gift of Great Expectations…
"This book makes me believe that one man can make a difference. The life and teachings of Jerry Kupchynsky, affectionately known as Mr K, certainly did for his daughter Melanie and her friend Joanne Lipman, and for legions of students whose lives were affected and changed by the powerful vision of this passionate, complex man. Even more importantly, this book reveals how music can become an anchor, a binding element for creating friendship and support during times of grief, illness and tragedy. By being inspired, the authors themselves become inspirational. Mr. K's work lives on, and we are all the richer for it."—Yo-Yo Ma

"A joy to read--an affecting, emotional, triumphant story."—Amy Chua, Yale Law Professor and author of BATTLE HYMN OF THE TIGER MOTHER

"Moving and motivating.... While tactics like [Mr. K's] may not have earned his students' immediate devotion, they never forgot him and often found the could achieve more than they ever dreamed.... A Must Read."—Kirkus Reviews, Starred Review

"A very fine dual memoir....
For those who had a figure like Mr. K in their lives, STRINGS ATTACHED will resonate. Everyone else will wish they had been so lucky."

—The New York Times Book Review
Advertisement