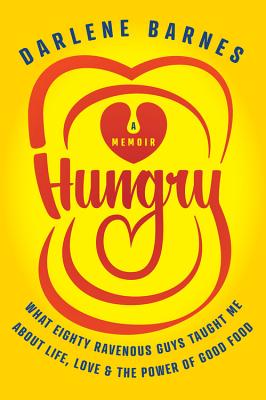 Hungry: What Eighty Ravenous Guys Taught Me about Life, Love, and the Power of Good Food (Hardcover)
What Eighty Ravenous Guys Taught Me about Life, Love, and the Power of Good Food
Hyperion Books, 9781401324773, 250pp.
Publication Date: August 6, 2013
* Individual store prices may vary.
or
Not Currently Available for Direct Purchase
Description
"The book is as much about nourishment as it is food. Barnes' affection for the fraternity brothers carries the narrative. . . . A heartening memoir of good food and tough love."
--Kirkus Reviews
Newly arrived in Seattle, Darlene Barnes stumbles on a job ad for a cook at the Alpha Sigma Phi Fraternity on the University of Washington campus, a prospect most serious food professionals would automatically reject. But Barnes envisions something other than kegs and corn dogs; she sees an opportunity to bring fresh, real food to an audience accustomed to "Asian Surprise" and other unidentifiable casseroles dropped off by a catering service. And she also sees a chance to reinvent herself, by turning a maligned job into meaningful work of her own creation: "I was the new girl and didn't know or care about the rules."
Naively expecting a universally appreciative audience, Barnes finds a more exasperatingly challenging environment: The kitchen is nasty, the basement is scary, and the customers are not always cooperative. Undaunted, she gives as good as she gets with these foul-mouthed and irreverent--but also funny and sensitive--guys. Her passion for real food and her sharp tongue make her kitchen a magnet for the brothers, new recruits, and sorority girls tired of frozen dinners.
Laugh-out-loud funny and poignant, Hungry offers a female perspective on the real lives of young men, tells a tale of a woman's determined struggle to find purpose, and explores the many ways that food feeds us.
About the Author
Darlene Barnes has been food and word passionate all her life, cooking professionally for the last eleven years. Born in the New Orleans area, she spent most of her precollege years in London, eventually moving to Canada with her husband and graduating from Queen's University with a BA in English. From 2006 to 2013, she cooked for the men of Alpha Sigma Phi Fraternity on the University of Washington campus in Seattle, offering fresh food and largely unsolicited advice to her college-age customers. She blogged about the experience at hungryboys.net and continues the teaching, learning, and connecting through food at darlenebarnes.com. Barnes lives with her husband in Seattle, where her two grown sons also reside.
Advertisement