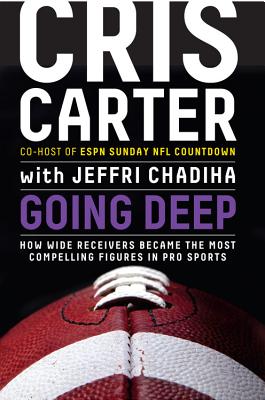 Going Deep: How Wide Receivers Became the Most Compelling Figures in Pro Sports (Hardcover)
How Wide Receivers Became the Most Compelling Figures in Pro Sports
Hyperion Books, 9781401324858, 295pp.
Publication Date: July 30, 2013
* Individual store prices may vary.
or
Not Currently Available for Direct Purchase
Description
How Wideouts Became the NFL's Standouts

From the time Cris Carter started his career as a supplemental draft pick of the Philadelphia Eagles in 1987 to his retirement in 2002, the position of wide receiver exploded in the NFL. Receivers went from being quiet and classy to being known for their electric play, off-the-field antics, and--in some cases--over-the-top personalities.

In Going Deep, Carter and ESPN journalist Jeffri Chadiha chronicle the rise of the wide receiver and explain how it became the most complex, compelling, and talked-about position in all of professional sports. Using stories from his own career to offer unprecedented insight into the position, Carter explains the players' unique personalities, how their minds work, and why teams need to understand exactly what they're dealing with when it comes to their wideouts--the NFL's newest superstars.

Told through Carter's opinionated voice, Going Deep covers all the important moments and people--from Michael Irvin, Jerry Rice, and Keyshawn Johnson to Randy Moss, Terrell Owens, and Chad Johnson--who have contributed to this revolution. He also tells stories readers have never heard about their favorite players, shares theories about the position that only get discussed in front offices and locker rooms, and offers revealing explanations on what these players mean to the league today, as well as why the NFL can't go forward without them.

"One of the most riveting, insightful football books I've ever read. This book takes you inside the huddle, along the sidelines, and deep into the secret world that is the NFL. Breathtaking work."
--Jeff Pearlman, New York Times bestselling author of Boys Will Be Boys and The Bad Guys Won

"No one understands wide receivers better than Cris Carter, and I loved his book. If you want to understand how we think, and hear inside stories about the most over-the-top athletes in sports, read Going Deep."
--Jerry Rice, Hall of Fame wide receiver

"I am so glad someone got Cris Carter to sit down and describe what makes receivers tick. (It's deeper than you think.) You'll get to the last page of this book and say, 'I really learned a lot here--and the pages flew by.' "
--Peter King, senior writer, Sports Illustrated; author of Monday Morning Quarterback; and two-time National Sportswriter of the Year
About the Author
Cris Carter spent 16 years as an NFL wide receiver -- where he became one of the most dominant pass-catchers in the history of football -- before embarking on a broadcasting career that has led to his current position as an analyst for ESPN. Cris currently is best known for his appearances on the network's Sunday Countdown and Monday Countdown shows and he served as a member of HBO's Inside the NFL prior to that. He is known as one of the most insightful and intelligent football analysts in the industry. Carter was just as cerebral during his playing days, when he was known for his sure hands, precise routes and an uncanny ability to score touchdowns in bunches. He appeared in eight Pro Bowls and set nearly every major receiving record for the Minnesota Vikings. When Carter finished his career, he ranked second all-time in the NFL in receptions (1,130) and touchdown receptions (130).

Jeffri Chadiha has spent the last five years as a senior writer for ESPN.com and a contributor to ESPN the Magazine. Though his primary responsibility involves covering the NFL, he also provides stories for the newsmagazine show E:60 and has appeared on ESPN shows such as First Take, Numbers Never Lie and Sports Reporters. Prior to joining ESPN in 2007, Chadiha was a senior writer for Sports Illustrated, where he worked for seven years. Overall, he has covered the NFL for a total of 16 years and won considerable recognition for his work, including a Sports Emmy in 2009.
Coverage from NPR
Advertisement