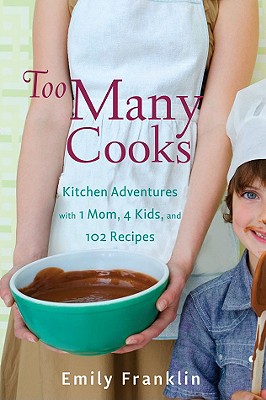 Too Many Cooks
Kitchen Adventures with 1 Mom, 4 Kids, and 102 Recipes
Hardcover

* Individual store prices may vary.
Description
"I love my mom and I'm a good cook, and still I can't help wishing that Emily Franklin would adopt me--or maybe send me a care package. But at least I've got her recipes now. And this book, which is the perfect mix of heartwarming and mouthwatering. Yum." --Catherine Newman, author of Waiting for Birdy
"Emily Franklin's Too Many Cooks is a boon for anyone trying to cook healthy simple meals for children. It is also great fun for those of us who love to peek at the domestic lives of others. Franklin has a warm, unpretentious voice and appealing recipes that are asking to be tried." --Jenni Ferrari-Adler, author of Alone in the Kitchen with an Eggplant
Hilarious and wise, Too Many Cooks celebrates a year in the family kitchen with one mom, four kids, and a picky pediatrician husband.
Emily Franklin's food memoir Too Many Cooks was born of two simple loves: food and children. A foodie and former chef, Franklin wants to pass on her love of food and cooking to her kids; she wants them not only to enjoy what they're eating but to know what they're eating. So, over the course of a year, she introduces her children to new dishes--some exotic, some thrown together with whatever she has in her cabinets--with varying degrees of success. Undaunted by failure ("This tastes like sand!"), Franklin pursues her culinary mission from the heartland of Indiana to the Umbrian countryside. Some meals conjure visions of pleasure while others are utter catastrophes. Along the way, she discovers how a delicious (or even disastrous) meal can bring families together and feed the soul.
As Franklin chronicles her family's year around the kitchen table, season by season, she shares original recipes. From comfort, kid-friendly food like Mummy Nuggets, to the more adventurous Saffron Fish Chowder, to food made on the fly like Orange-Oaty-I-Don't-Know Cookies, each recipe follows a charming or bittersweet or laugh-out-loud anecdote that captures the chaos of cooking for four young kids.
Franklin seasons her stories with how-I-did-it advice on cooking and parenting that makes this such a delightful and inspiring read. And with more than 100 simple, mouthwatering dishes, Too Many Cooks is a happy mix of recipes, memories, and good storytelling.
Hyperion, 9781401340834, 384pp.
Publication Date: April 1, 2009
About the Author
EMILY FRANKLIN is the author of "Liner Notes" and "The Girls' Almanac." She is also the author of several Young Adult novels. Her fiction, poetry, and articles have been published in "The Boston Globe" and the "Mississippi Review" among others, and been anthologized in Some Kind of Wonderful: Contemporary Writers on the Films of John Hughes and "When I Was a Loser: True Stories of (Barely) Surviving High School by Today's Top Writers"and the forthcoming"WHAT I WOULD TELL HER: 30 Top Women Writers on the Mother--Daughter Relationship. "Franklin studied at Oxford University, received her BA from Sarah Lawrence College, and her MA in Writing and Media Studies from Dartmouth College. Prior to being on the staff of National Public Radio's "Car Talk" show, she was a chef on historic and luxury yachts. Several of her recipes from that time were published in the cookbook "Tea Time Journeys." She lives near Boston with her husband where she is a full time mother to four children ages eight and younger with no childcare.
or
Not Currently Available for Direct Purchase